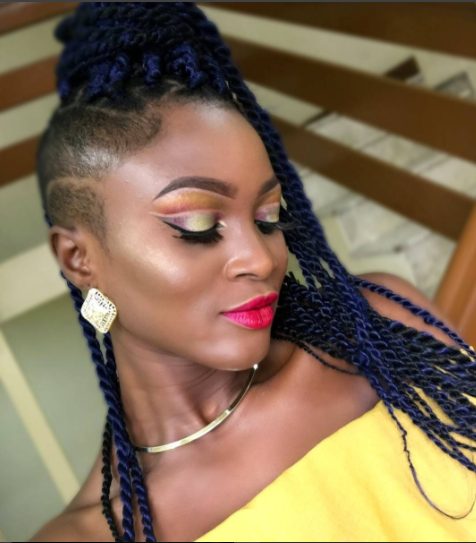 Rapper Eva Alordiah, in a new IG post, opened up on how she started off in the rap world.
According to the I DONE DID IT crooner, who recently confirmed the end of her 15months engagement to media personality, Caesar, she started rapping out of jealousy.
Eva, revealed 15 random things no one knows about her with this disclosure included in it.
1. I like to Sleep on my back. I stopped sleeping on my chest since the day I heard/read that it could make your Breasts flatter. Is this true?

2. I love to drink Garri. Love. Since I was a child, soaking Garri has been a Fav snack of mine. With groundnut, Kulikuli, Sardines, or Beans
3. I always go out to stare at the sky when I wake up everyday. There's something out there.

4. I was Born in the Car, on the road! My Mom self delivered me right there in the passenger seat. It rained heavily after I came out and My first bath was at a Petrol station.

5. I started Writing novels at age 5-6

6. I began to Rap only because a Girl in my Dorm (Yemisi Ayinde @miel_411) in secondary school was rapping to 'Cleaning out My Closet' by Eminem and I was so Jealous I had to learn the entire thing!
Jealousy is good when it makes you better no? Ha

7. I like to Cook. Only if the Kitchen is comfortable and clean and there is someone else to feed.

8. I always wanted to Act Movies. I still will

9. My Fav thing to do as a Music artiste is Performing. My best show and Fan appreciation was in Uniben

10. I love only two Video Games – Super Mario Bros and GTA Vice City. (Heyyzzz don't judge me)

11. I use Glasses. I got my first frames at age 10. It made me look like an Efiko in school.

12. I was actually an Efiko in school.

13. I really really really Reeeeaally Love Makeup. It reminds me that I am female.

14. Everyday without fail, I make sure to stand Naked in front of my Mirror and admire myself. Every girl should do this.

15. I finally realize I love Fashion! But only if I am making my own Clothes. So now I am making my own clothes

16. I love horror movies.

17. Reading helped me through my Depression. Now I just really love to read! I read for no reason.

18. My Fav color used to be black. Now it is white.
19. I really Loved Loving C. He was… Incredible! (the past tense is weird)

20. I looooooove the Internet and all the many things I can do with it. But by all means, I stay away from 'Nigerian Internet. It is a straight path to hell.
_
That's it! Which ones were your Fav? Please let me know in comments!
Thanks for all the love,

E
---