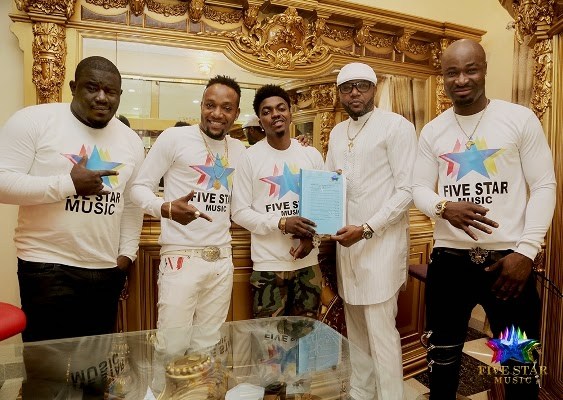 Things are definitely getting heated between Harrysong and his former label, Five Star Music.
The latter's team has finally released a statement surrounding the entire fracas, slamming claims that he begged to be signed.
Via the statement released by Alterplate, and obtained by Thenet.ng, it reads:
'It was 8 am and Policemen acting on the instruction of the Assistant Inspector General of Police in Onikan, stormed our hotel room to invite Harrysong over for questioning,' Desmond, a representative for Alterplate said.As a law abiding citizen with nothing to fear, we got dressed up and set out for the AIGs office and on getting there we were greeted by the presence of a haggard looking young man in cheap pair of suit, identified as Five Star Music lawyer.''On the other hand, as against the kangaroo statement released by Five Star music earlier today, I wish to also state that Harrysong did not at any time approach anyone or company to sign him; it was rather the other way round.
'Kcee approached Harrysong on bended knees to help salvage his dying career after he fell out with his then partner.'
On the N5million fee paid to Kelvin Luciano of Questionmark records, Harrysong's team claimed it was their decision as they deemed it fit to sign him all cost.
The team also bragged about savaging Kcee's career as they managed to recreate his sound, writing hit songs like ,  first 'meaningful' single, 'Had It Been I Know', followed by 'Okpekete', 'Limpopo', 'Pull Over' and other songs that defined the Kcee that everyone knows and celebrates today.