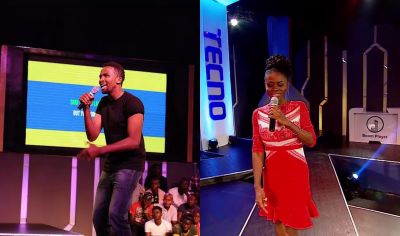 The age long war between Nigerians and Kenyans is about to reach a whole new high. From jollof wars, to twitter wars, now tecno own the stage.
Thanks to tecno we shall be finding out if truly. Nigerians are better singers than Kenyans.
Our east African rivals have no doubt bettered us when it comes to track events (side-eye Usain Bolt), but will Nigerians be so generous with the music throne.
Shapira Makepeace has been placed with the heavy burden of taking Nigeria across the finish line seeing as she is the only Nigerian left on the show.
She will be facing four other strong contenders from Kenya.
Can Shapira bring home the crown and therefore the bragging rights?
Tecno own the stage will be lit this Sunday, you do not want to carry this one over.
Make it a date with Tecno own the stage:
Sundays – Africa Magic Showcase at 19:00 CAT (6pm Nigerian time)
Sundays – Africa Magic Urban at 21:00 CAT (8PM Nigerian Time)
You can watch the repeat broadcast on:
Tuesdays – Maisha Magic East and Maisha Magic Bongo at 18:30 CAT
Wednesdays – Africa Magic Family at 19:00 CAT
If you are in Ibadan, Kaduna, Kano, Lagos, Abuja, Onitcha, Owerri, Portharcout, Uyo. Use the hashtag #TECNOOwnTheStage + Your Location (e.g. #TECNOOwnTheStageUNILAG) to bring the TECNO Music Truck to your hood. And get to perform any of the contestant's rendition on the Tecno music truck.
If you missed this weeks edition no need to panic, visit Tecno own the stage' Youtube Channel: Tecno OwntheStage and get all the hits and misses from last night.To be a part of all the fun and excitement, watch the show highlight and show some love to your favorite contestant.
For more info and updates, you can follow us on;
Facebook – Tecno Own The Stage
Twitter – @tecnoowndstage
Instagram – @tecnoownthestage
---