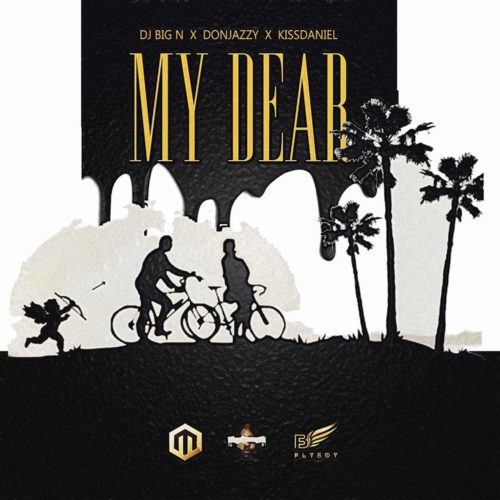 My dear, shake your bum bum my sweetie
Make you go down low baby
No dey waste time oya redi
Pam pami o, Bukky baby o
Like other top DJs in the industry, DJ Big N is building a portfolio with solid music releases. The Mavin Records DJ had earlier put out a blend of hip-hop and RnB music titled Trilogy, on which he featured Iyanya, Reeekado Banks and YCEE. The big man now follows it up with a new single titled My Dear, which has Don Jazzy serving some of his hoarse vocals and perhaps the industry's hottest property, a-free-to-collaborate Kiss Daniel who just scored a hit with another DJ – Spinall on a song titled Baba.
Here is what we think of DJ Big N's My Dear.
@ibironketweets A Don Jazzy, Kiss Daniel collaboration has finally happened, wow! On My Dear, Don Jazzy supplies the playful melody and the party-styled rhythm that forms the hook. Kiss Daniel adds spice to the mix with his stainless vocal and the product is a fast-tempo party music that is destined for the top of the charts and if doesn't make the charts, it would surely make the rounds at weddings and festivals, especially those held in the East.
@jimancipation Sweetness! Sweetness!! Were my immediate thoughts when I first listened to DJ Big N's My Dear. You hear Jazzy's careless style of vocal rant on the song's intro "testing microphone" and you can already tell that you're in for a treaty.
My Dear glistens not just because Flyboy Kiss made a banging collabo with the Don Baba J (well, dat one sef dey) but actually because the life of the song is in its humour overtone, which Jazzy brought sufficient doses of using his it's-not-that-serious application of voice and composition of lyrics on the groovy tune. More to thank would be Kiss Daniel for his icey mint vocals which synergize perfectly when he blends it over skittish lyrics. It's like having the best of both business and pleasure fantasies. The takeover star is mastering that Wizkid art of finessing songs with every new music released, and collaborative feature slayed.
Projection wise, My Dear is expected to coast on the music charts, and even when Wizkid and Davido's hapless timing for music releases seem to hamper that, best believe it'll still be here because that's how powerfully exciting DJ Big N's assemblage of iconic musicians on this song has (and will) turn out to be. The other thing I'm ecstatic for would be the music video; the song plays like it would pack on bits of theatrics in a visual, and so I urge the video director – whoever he'll be, to please deliver to creative expectation.