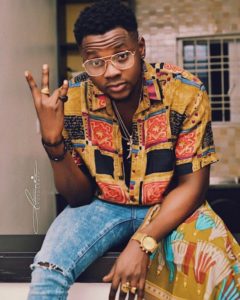 Flyboy I.N.C front man, Kiss Daniel might just have kicked off a project to get fresh music talents off the streets, going by his activities on Twitter. The singer recently made his intention to help aspiring singers on the street, public via a Twitter post which read,
Time to take some fresh talents off the streets. HAPPY EASTeR SUnDAY ?? #FlyboySquad

— KISS DANIEL (@iamkissdaniel) 1 April 2018
Some hours before that, Kiss Daniel was approached on Twitter by a certain @Danielswags who happens to be an up and coming singer, to feature on his song. Kiss Daniel told the up and coming singer to get 20,000 retweets for that to happen. @Danielswags started his campaign for retweets and not before long, he passed his target which forced Kiss Daniel to commit himself to working with the determined young singer.
The young singer shared two video recordings in which Kiss Daniel confirmed that he would be returning to the studio to record the hook of their collaboration. Knowing what a Kiss Daniel hook can do on a record, @Danielswags would only need to display his music talents on the song, like he showed his determination to secure the collaboration, and his music career might just take off.
See tweets below.
Please I need 20K retweets to feature @iamkissdaniel on my next song…. Help a brother dream come true ???? pic.twitter.com/r38yvKa9VD

— Learned Stoner (@Danielswags) 30 March 2018
Well… I think I have to start writing some dope verse ? https://t.co/lvNnqKdl9n

— KISS DANIEL (@iamkissdaniel) 1 April 2018
Forever grateful ??? @iamkissdaniel pic.twitter.com/q7JujpLiXm

— Learned Stoner (@Danielswags) 1 April 2018
— Learned Stoner (@Danielswags) 1 April 2018