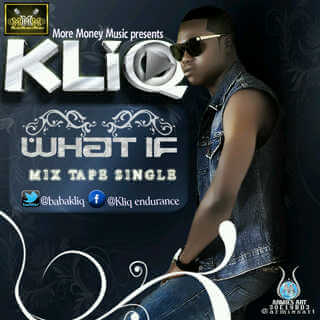 Kliq is a sensational rapper from the ancient city of Benin. Born in
the early 90's, the young art otherwise known as OKUONGHAE ENDURANCE
OSAYANDE, started nursing his musical talent from the tender age of
nine, he went professional with his first Single  HUSTLER, in june
2007.In November that same year, Kliq released a second single titled TAKE YA,  this feat won him recognition in the south south and in 2008 did couple of works with artistes based in Ghana, Spain and France. Prominent among them are: Makido, Nicole and the award winning Dj kelvin. In a bid to enhance his musical career, Kliq took a major break between 2010 and 2011 to learn musical production,  He came back with a single in february 2012 titled "THIS FEELING" featuring Santos, with a powerful video to match up the demand and yearning of his fans. In mid 2012 Kliq added two more singles to his cap with the release of "LET'S GO THERE and AGBON". He is best described, a perfect entertainment machine who combines his extraordinary vocal and dance skill very well buying his way into music hearts. On stage,Kliq is simply a delight, giving breadth taking and classical performances.."WHAT IF? Is his very latest, released under the label More MoneyMusic, to hit the airwaves from January 25th 2013.." Don't be told the
story, be part of it" Kliq is here to stay!
[audio:http://tooxclusive.com/wp-content/uploads/2013/01/What-iff-_tooxclusive.com_.mp3]
---