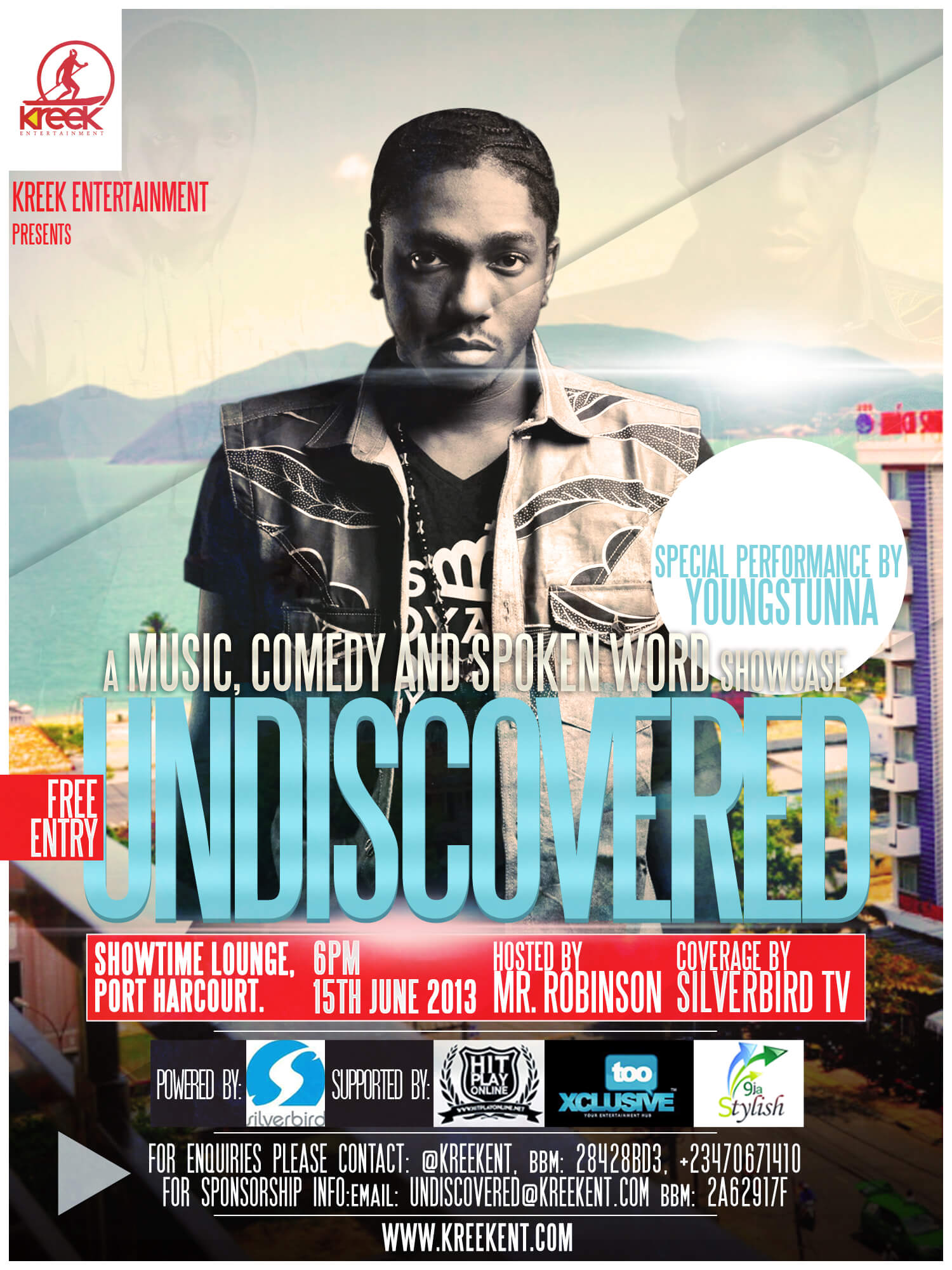 Kreek Entertainment, a network of young talented individuals on a mission to provide  world-class entertainment to the best of their abilities in partnership with Silverbird Communications Ltd, www.tooxclusive.com and www.hitplayonline.net is proud to present to you "UNDISCOVERED" at the Silverbird Showtime lounge. This monthly event is a showcase for upcoming and unknown talented, musicians, spoken word artistes and comedians in Port-Harcourt and its environs who will otherwise not have had the opportunity to be seen or heard. The objective is to give them an easily accessible platform to display and hone their craft supported by fairly or well established acts in the industry.
The artistes/performers will be screened and handpicked for each show by the Kreek Entertainment team and at the end of each night, the crowd will judge who they think put up the best performance. All the performers get to show their skills before industry stakeholders, label execs, talent scouts, and the winner will be awarded full media coverage (radio play, interviews, and music videos shown on TV) from Silverbird Communications as well as full online publicity from www.hitplayonline.net and www.tooxclusive.com as an incentive. Each event would be hosted by a Rhythm 93.7fm PH On Air Personality and covered fully by Silverbird Television.
The Maiden Edition would take place on the 15th of June at the Showtime lounge and would have Youngstunna as the Headlining act.
HOST: Mr Robinson of rhythm 93.7 PH.
TIME: Doors open 6pm, show starts 7pm. Limited seating available.
 FREE ENTRY.
Subsequent events would take place every 2nd Saturday of the month.
HOW TO ENTER
Musicians: email your track and personal profile of yourself to [email protected]
Comedians: email [email protected] or contact Egwonor (Kreek Entertainment Events manager) on +2347067714100 or BBM: 28428BD3 to arrange a short audition.
Spoken Word/Poets: email [email protected] with a copy of an original piece done by you.
If Selected, the Kreek Entertainment team would contact you and do not get discouraged if you don't get picked at first Undiscovered is here to stay and you would definitely get a shot at it. Check out www.kreekent.com for more information and subsequent events.
For Advert placements, Enquiries or Sponsorship considerations;
Visit: www.kreekent.com
Email [email protected] or [email protected]
Twitter:  @KreekEnt  www.twitter.com/kreekent
Facebook: www.facebook.com/KreekEnt
BBM: 2A62917F
This event is powered by Silverbird Communications Ltd and supported by www.hitplayonline.net www.tooxclusive.com and  www.stylish9ja.com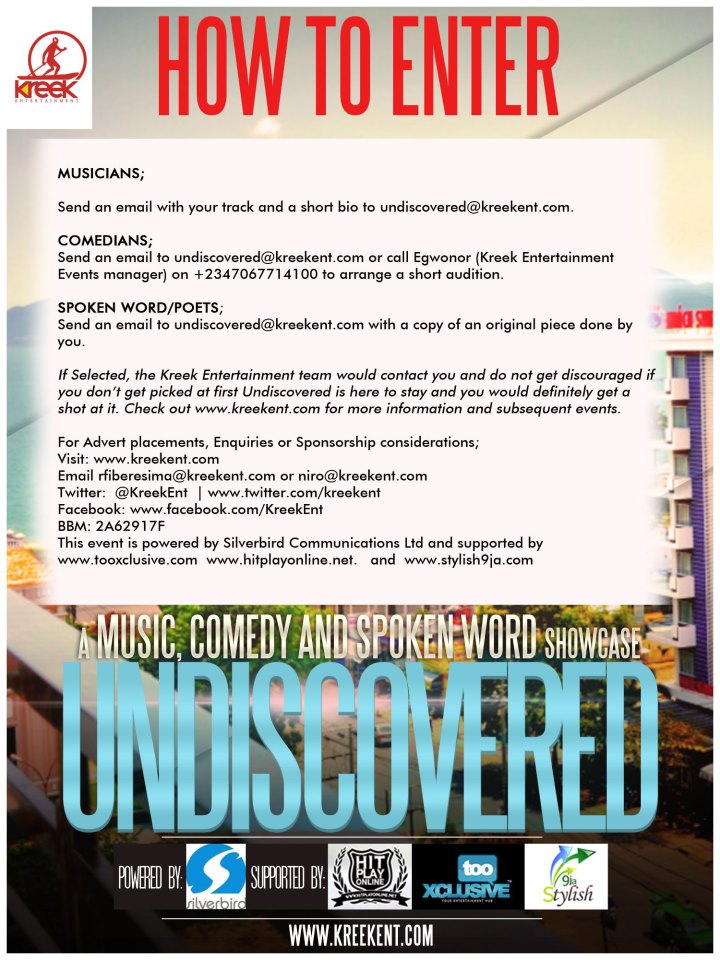 ---