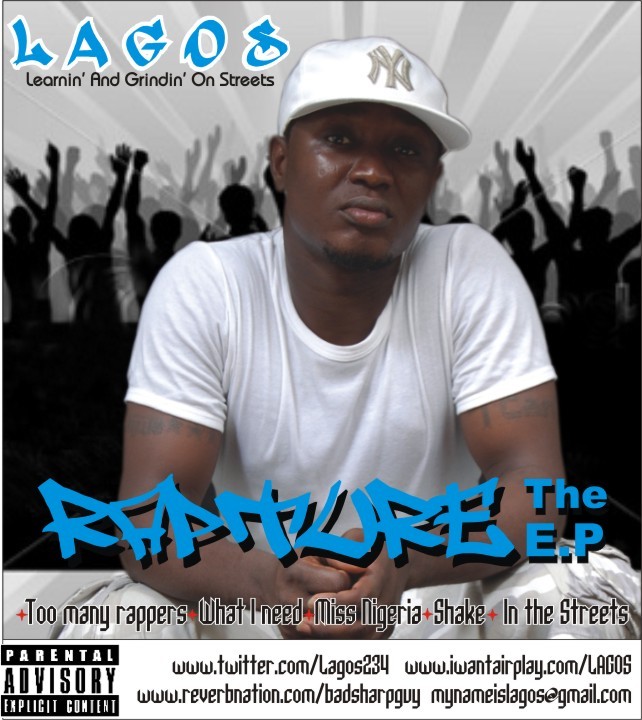 LAGOS whose real name is Sina AkinSola is a critically acclaimed rapper, street lyricist and songwriter. He was born on Lagos Island and raised in the infamous Masha/Shitta neighbourhood in Surulere. LAGOS is a backronym for Learnin' And Grindin' On Streets. LAG wrote his first song in 1999 after which he recorded some songs for his first demo tape.
He has recorded so many songs since then even before 2009 when he recorded his first official song titled Street Grammar. In November 2010, LAGOS dropped LAGOS Wuz Ere, a mixtape that featured underground bangers like Acid Rain, Dark and Luvly, Street grammar pt. II and an unofficial remix of Konga's Kaba Kaba.
The follow-up to LAGOS Wuz Ere is RAPture: The EP. It is the second free project from LAGOS. RAPture to the unsigned emcee means the end of unrecognised greatness and not the experience anticipated by some Christians, of meeting Christ midway in the air upon his return to earth. RAPture features a true-to-life song titled "What I need"; two hardcore songs "Too many rappers" and "In the Streets"; a dance track titled "Shake" and an old song he recorded years back titled "Misss Nigeria".
All the songs written and composed by Sina "LAGOS" AkinSola and produced, mixed and mastered by Coldflames for Flaming Media, Magodo, Lagos. LAGOS is a free-agent currently working on the sequel to RAPture which is a yet to be titled debut album to be released next year.
Links to the songs:
In the Streets[audio:http://tooxclusive.com/wp-content/uploads/2011/05/In-the-Streets.mp3|titles=In the Streets]
1. Too many rappers: http://www.4shared.com/audio/il0sE10o/Too_many_rappers.html
2. What I need: http://www.4shared.com/audio/Yv54uwEC/What_I_need.html
3. Miss Nigeria: http://www.4shared.com/audio/tz93Ei–/Miss_Nigeria.html
4. Shake: http://www.4shared.com/audio/N3wYnUSA/Shake.html
5. In the Streets: http://www.4shared.com/audio/Xy6Ei4x5/In_the_Streets.html