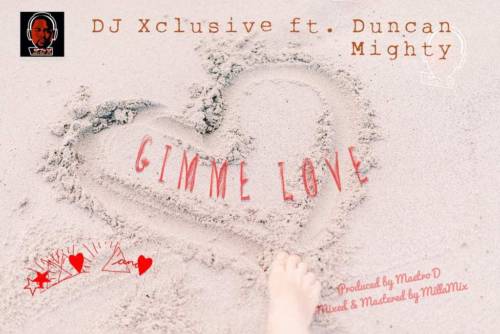 DJ Xclusive ft. Duncan Mighty – Gimme Love Lyrics
[Intro]
Xclusive, Duncan Mighty
It is I, SuperStar DJ
Emsoje tanbo Gimme love
Tah! tanbo Gimme love
Girl you kab kanbo gimme
Kako kakobo, turn up
Kabo kabo, turn up, turn up
[Bridge]
She's Ghanaian, her mother from Accra
Her father from Osi, a mami ya yewu uuh
Odo yewu, my Maserati, I go buy you Bugatti,
Just to tell you medasi
Ahn ahn ahn, is this love that am feeling?
Ahn ahn ahn, osuge wene kpomkpom mi oh
Ahn ahn ahn, is this love that am feeling?
Ahn ahn ahn, osuge wene kpomkpom mi oh now
[Hook]
Esuge kabo gimme Love
Ka kabo gimme Love
Girl you ka kabo gimme
Ka kobo ka kon konbo gimme
[Chorus]
Oh nononono
Gimme gimme love, (Gimme Love)
Gimme gimme love, (Gimme Lo-lo-Love)
Gimme gimme love
(Gimme Gimme Gimme Gimme Love Love)
[Verse 1]
Ko le dabi
Efo chala magi jim'obi oh
Maka dim ukwu nonunu
Ko le dabi ohoh, ah ah
Ko le ko le ko le, ko le le le
Ko le dabi bi bi yaya oh
Omodu fenwan
[Bridge]
She's Ghanaian, her mother from Accra
Her father from Osi, a mami ya yewu
Odo yewu, my Maserati
I go buy you Bugatti, just to tell you medasi
Ahn ahn ahn, is this love that am feeling?
Ahn ahn ahn, osuge wene kpomkpom mi oh now
[Hook]
Esuge kabo gimme Love
Ka kabo gimme Love
Girl you ka kabo gimme
Ka kobo ka kon konbo gimme
[Chorus]
Oh nononono
Gimme gimme love, (Gimme Love)
Gimme gimme love, (Gimme Lo-lo-Love)
Gimme gimme love
(Gimme Gimme Gimme Gimme Love Love)
[Verse 2]
Ki lo de, if I carry your mama and papa to oversea?
I carry to oversea, make them manya manya mufua nanu muchedu
Make them rikwairi wai ma junjun
Make them aski ask ajuju
Wish kinda love them bring bring?
[Bridge]
She's Ghanaian, her mother from Accra
Her father from Osi, a mami ya yewu
Odo yewu, my Maserati
I go buy you Bugatti, just to tell you medasi
Ahn ahn ahn, is this love that am feeling?
Ahn ahn ahn, osuge wene kpomkpom mi oh (It is I)
[Hook]
Esuge kabo gimme Love
Ka kabo gimme Love
Girl you ka kabo gimme
Ka kobo ka kon konbo gimme
[Chorus]
Oh nononono
Gimme gimme love, (Gimme Love)
Gimme gimme love, (Gimme Lo-lo-Love)
Gimme gimme love
(Gimme Gimme Gimme Gimme Love Love)

"[Lyrics] DJ Xclusive – "Gimme Love" ft. Duncan Mighty", 5 out of 5 based on 1 ratings.
---