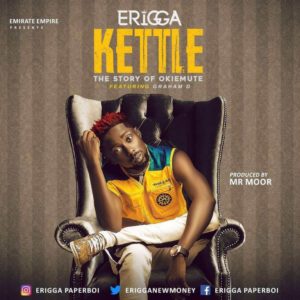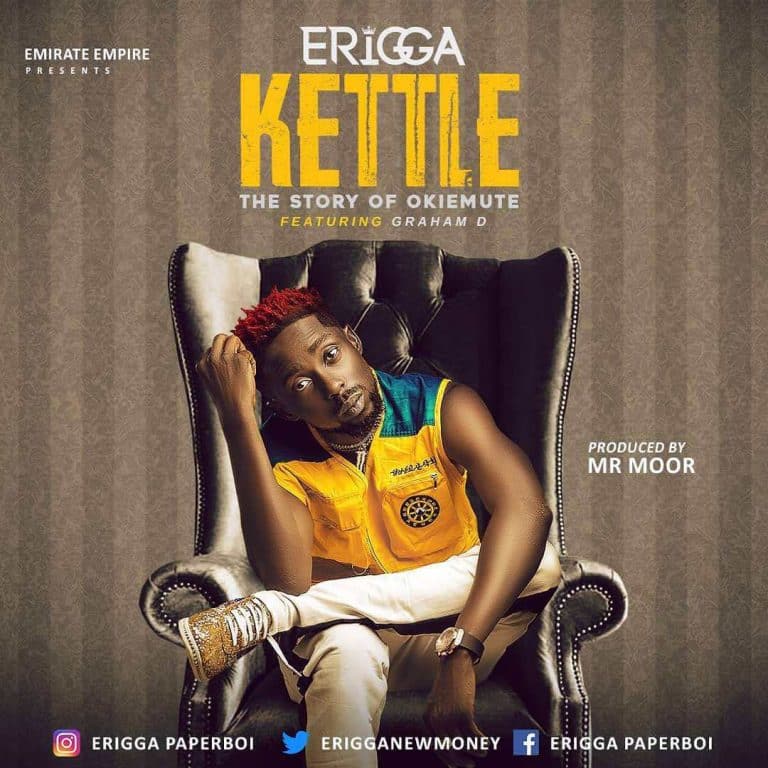 Erigga – Kettle (Story Of Okiemute) Lyrics
[INTRO]
Oh na na na na, omo, its Paper boi, you know the voltage nah
It's your boi Erigga Paper boi & Graham D baba
Omo E get wetin play when ah go Accra recently mehn!
Ah nor fit yarn am, so ah gats put, ah gats express am through music you understand
About my guy Okiemute
[VERSE 1]
Okiemute say like this he wan go join HK
For Accra nothing dey him hand only 10k
Eribaba believe me ah nor be JK
Before ah waka we fit gather smoke your SK
As we dey smoke ah tell am say na Akanuche
E work for me nor mean say e go work for Uche
He say Erigga lock up, who I wan follow pench
Na my real guy beside, ah dey expect one cash
On he way to Lagos he receive alert
Family land na he sell the boi too get heart
Enter Accra, he guys dey hail am Bossu
He nor dey hustle every night steady bottle
If dem wan cook for house nai him dey go withdraw
Small small big Man for Accra don poor
Nobody tell am around 10 o'clock for night
Dem send am message lock gate, fling him things outside
[HOOK] (GRAHAM D)
Because E work for Mr A like that
No mean say E go work ki for Mr B like that
Because your friend travel go Ghana en make him money
You think say if you travel you go make am too
Use your sense waka no be leg
The hustle wey we dey so na God abeg
If not for the Streets, boiz for dey beg
Na only God fit to change leggedis to Benz
[CHORUS]
Akaraka di iche
Akaraka di iche
Weluche gi ga ije oooh no
Every mallam with him kettle
And every body with him grace (X2)
[VERSE 2 – ERIGGA]
Habeg!!!
According to brother Shaggy
Oyibo talk say, patience na virtue is okay thank you
The same kpo wey we smoke write better music
Some other artiste smoke am wetin dem sing stupid
Are you feeling me? Or should I repeat
No be everybody be your man inside this street
Boiz don fall person because of yeye pick up
For my present police throw am for pick up
Okiemute come area we ask am wetin sup
For like 2 days ah swear my guy no gree talk
Only to hear say he say where dem carry am go
Dem give am knife shook mirror but nah him mama show
He say he nor fit use him mama na him make am discharge
Say around 10 o'clock for night he enter road come Lag
Forgetting say everything wey dey happen for Accra, area don hear the real gist ah wan laugh belle scatter
[HOOK] (GRAHAM D)
Because E work for Mr A like that
No mean say E go work ki for Mr B like that
Because your friend travel go Ghana en make him money
You think say if you travel you go make am too
Use your sense waka no be leg
The hustle wey we dey so na God abeg
If not for the Street, boiz for dey beg
Na only God fit to change leggedis to Benz
[CHORUS]
Akaraka di iche
Akaraka di iche
Weluche gi ga ije oooh no
Every mallam with him kettle
And every body with him grace (X2)
[OUTRO]
Omo nah so E just be mehn!!
Which day here ah say Okiemute for Mega Chicken
Ah dey call am he dey dodge (dodge)
Ah nor understand this guy
E nor dey, E nor dey
Who naked nor dey shook hand for pocket
Nah real matter be this mehn!!
Another problem with our young boiz be say dem go dey compare their one step to another man one hundred step (real matter my guy)
If you no get money no hide your face ooh
Show your face make person help you
Na so life just be (na so life just be)….

"[Lyrics] Erigga – "Kettle" (Story Of Okiemute)", 5 out of 5 based on 1 ratings.
---