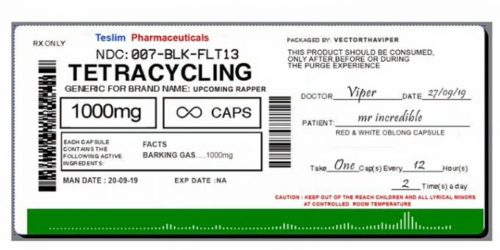 Vector – "Tetracycline Lyrics"
Who be me?
Who be me?
VEC
Uhnnn look
All liars go to hell, guess am bringing the fire
I see u have dogs, am bringing some lions…
Mr incredible I hear watin u talk ooo
But u know lyricist on the roll is based on the bars tho
Will shock u like Snapchat, I tap before the shot
I hold it down for the video now everybody else gat to watch…
Rappers talking bout the gully, the guts and the glory
Don't be side jabbing, you've been to Lafiaji so you know me
Didn't you tell me all the crap rappers-they weren't the future of rapp
If u keep your gun with the enemy he will shoot u with that…
And look, you young clown better know your papa
You get your lines online you're a Konga rapper
And Instagram no be house, y'all soft and truly hating
Taking shots on my posts, turn off notifications
You see na this kind line wey we dry yarn, wet dry win
Best rapper lyricist, and I don't hav to make a scene
That why one freestyle wey dey make you dry vex for me… *Shuuu*
When I been dry gamble all the line shey u dey bet for me… *Shuuu*
Abi na u pay school fees when I dey Greg's for me… *Shuuu*
Get off my man hood, Eyin wey shey eyin le pon mi
(Interlude) Master!
Look! First warning, am the one you don't want to confront
And if you like peace am the one you want to run from
Barrack boy, yes I know where to get a gun from
And I never miss so if you dunk am playing dunk hunt
King Kong, yo that's the reason they call me that's
Being pussy is a joke and I can never be a funny cat
Heat when am coming through, I be live oven
You feeling free am Morgan Freeman put ***
See my neck will never cut, and my rap will never suck
But if I ever ever suck, my girls legs will be wide open…
To ba je ti rap, laye laye e le chance eh
Okukun sho gbogbo yin e de le moo plans eh
O le call pe ko ki iyawo eh, pe ko Thank eh,
Wipee Ko ma worry omodo ti lo fo pant eh
I know a lot of you know am of a sick nature
Awon eleyi to sign Lafiaji ni signature
You hear!
Warning shot, coming through
A lot of Nigga, What wrong with you?