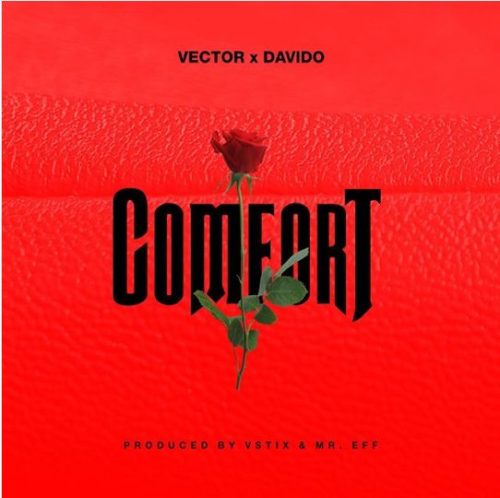 Vector presents the official lyric video for his latest single "Comfort" featuring Davido. This song is about adoration. Through self discovery and adversity, we should always create a shoulder for our loved ones to lean on no matter what we go through, as they will always stand by us in times of despair.
Leave a comment below if you are ready for more music from Vector!, Listen & Watch the Lyrics video for 'Comfort'… get the lyrics below and get familiar.
Vector x Davido – "Comfortable Lyrics"
LYRICS:
Olarenwaju Omo Teslim
Davidi Omo Adeleke
Shekpe!
Oshamo!
My type
I've been waiting for your type (your type)
I'm hoping you come online
Why? Chai
Cuz you're my baby!
No doubt, I don't need you for no clout
I don't even need to shout (eh)
Why? Chai
Cuz you're my baby!
E rora shey kaluba da kaluba re
E rora shey kaluba da kaluba re
Loke o, loke o baby sun gbalaga
Ye!
I wan dey your matter ta
Oh Yeh!
You won dey for my matter o
And I know sey e don tey o wey we dance galala
E Yeh!
Baby sun gbalaga
O hey, o hey
Eh eh comfortable
I go make you comfortable
I give you on top table
Omo ma lo jana cable, yeh
Lo, ma lo
Ja lo
Ma lo o lo o
Say lo (don't go, don't go)
Ma lo (don't go, don't go)
Ja lo (don't go, don't go)
Wa lo o lo o yeah
I been busy on a money chase
Clout is a lie, baby conversate
Gbagaun for you, but I don't mind
But your body's heat looking summer great
OBO trips, baddest
Your boyfriend before? Careless!
We go make kpa like kpa kpa kpa
Who dey!
Iyen lohun awon fearless
Na men full 30 B.G
I fit mount you 30 B.G
Protect you for life
The love is for life
E pass girlfriend
The love is for wife
Your doctor and beast
Jackyl and Hyde
If no be for God
I for dash you my life
On God, no fraud
If no be for God
I for dash you my life
Comfortable
I go make you comfortable
I give you on top table
Omo ma lo jana cable, yeh
Lo, ma lo
Ja lo
Ma lo o lo o
Say lo, ma lo
Ja lo o yeah
Ma lo o lo o yeah
O rora se
Kaluba da
Kaluba re
O rora se
Kaluba da
Kaluba re
Yeah!
Oshamo!
You feel like say wettin
You feel like say wettin
You feel like say wettin
Yeh!
Peperenmpe
Pempe, Peperenmpe (hey hey)
Peperenmpe
Baby I fall for you
My love for you
Is not confused
I want all of you (ye ye ye)
You need to know
You're free to go (Free to)
Ma lo ji soro (ye)
I need you intoto (Yeah say)
Iwo lo ma fo fun mi o
Tin ba fo
So le couple mi
Ayanfe sa ma bubble mi
Ka ji jo ma bubble ni yeah
Comfortable
I go make you comfortable
I give you on top table
Omo ma lo jana cable, yeh
Lo, ma lo
Ja lo
Ma lo o lo o yeah
Lo, ma lo
Ja lo o yeah
Ma lo o lo o yeah