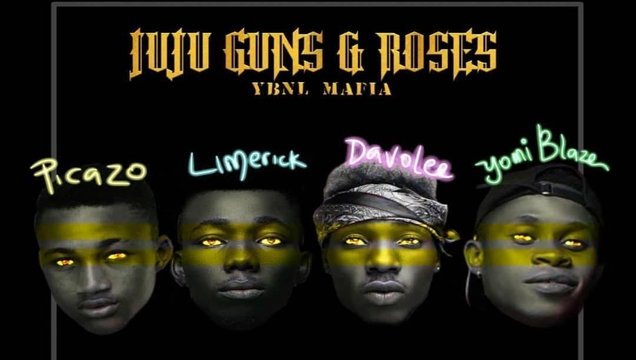 YBNL Mafia; Davolee, Limerick, Picazo, Yomi Blaze – Juju Guns & Roses Lyrics
[Intro – Davolee]
Haaahaaan
Rooodoooo, YBNL!!!
Ahan ahan!!!
Mafia introduction, e ni ki ogbeni Gbese
Efi owo ara yii shey ra yii, introduce your damn self
(Limerick)
Ah Limerick!!
Make una tell them say the rhyme sick
And i for like sing but den i burst rap when the time tick
(Picazzo)
Lyrical beast ni mi
Lyrical sicki psycher
The rapper wey you feature wey murder you for your cypher
Fing (fuck) the beat i dey knack am for bed
O lero lo'ri, You no get passenger for head
(Davolee)
Bebe ti tan awon eruku ti buckle up
Egun to tele bazuka lo Google
Olorun lomo ibi ti badoo ti ma ri awon omode yi
You nor say gonna last layi sepe won nwa masturbate
(Yomi Blaze)
I don start tipe tipe, aiye titi pa titi
If you dey study mi wo o ni ever kuro ni University
The flow godly alaiye i be immortal
Come online with your beef, ki sare bayi yi mo ata
Emi Ika!!
(Picazo)
Won ni pe a tuti babo
Tileku waju i follow the back door
Te ba loko ra yii joor, Emi yato
Emalo fara wewa emi ja gann
Tori ki to park moti bole
Ko'tan afi pe emi ni shovel
Eni mo brutal motigbo seee
Eni ro bi simi, oni gbon se
(Limerick)
If na true dem go talk am
But if na lie dem go talk am
Dem say i dey okota, wen i dey run my parol for ojota
Some of these people dey vex me
Dem no dey fit represent me
Me i want make dem keep am 100
But dem still dey keep am for 20
(Davolee)
E ti mo ise te gba, a ma fun yii ni problem
I will make sure you don't Cum again a ma so yin di impotent
Te ba gbe ina kari e'maba ekun ni buka
Telomi baya weyrey l'eko a lo bewu ni Dubai
Me and my Niggas we ready to kill
Ama fi pa ja lekun yii, a ready fun key
Banging my chest afi biti inoki
Ito buruku nbe lenu biti aboki
Mo kan ni pe kin fi to yi leti
Te ba shey bi weyrey won ma gbayi leti
Emi ni eni ti Igboro ti reti
Sa re po weyrey fun won bi ireti
(Limerick)
Men i been here with the banger
Fuck it i never could stagger
Won make i talk and some people want make i stammer
E b like dem no see the anger
This one nor b school i nor get time for grammar
My dogs and my barks, I swear they your jammer
I be olopa pikin if you talk i go fire
Everyday for Barack i be like Obama.
I'm a fucking desired am a beast in the rap that you never thought
Malo ma be to ba shey bi werey, My people go say you dey vex me
Why you dey copy my style, why you dey copy my style
Uhnn using my style like a beefing
Mehn i could swear you ain't even talking high.
(Picazo)
Licking yash telephone wire
Look at you talking to me
Spread the bars like a bonaza yeeh
Emi yen ti n gun mi
You wan rap give me example
Bring the rapper wey you be
I nor fit kill myself alaiye mi do the one wey you fit
Yes it's anonymous
Eran ni it's an animal
Won ni sango lokoya but mi o gbo kan shey engagement
To'lukoso ba prove me wrong, i will reverse my statement.
(Davolee)
Rrrroooodoooo
Ah togotogo motide, ti punches mi balo mu e oti gbe
Wofe mo bi ti mo leruku de, ibile won ma hip hop no b kupe
Ki awon elenu mari maso a dake
Masa lo tecno tin ba ni owo alcatel
Fu awon new signing ori won agba ten
Baddo lo gbe mi wole oya knack ehhh
Skrrr Skrrr
Ani e ti rogo, koto pe full time lawa ti, gbogo
Toba tun i weyrey awa ti bogo
Ibeyen o da o, omo yii no go
Omo to ba leti ko ma fi gboro
Eleyi ti ko balaga kaya fun lo yon
Efun ni crayon, ko ma fi colour
Reeee ata rodo ti wa di horror
Talo fe gbe sun mo talo le mi ee
Tinba ti gboja mii soju ni die
Pepeye to ba dun pe kore tori,
Tori Obinrin mo fi yii we no men
Motini keye fi wey anybody,
awon rapper ti mo fi we telitubbies
Omo ti oba le deliver ko lo bi
O koku ro ni school bi early rugby,
E won ti mo ba gba mu lasan, je gba ju lasan
Its turning rapture
Ori mi gbana pelu price
Ti won ni kasan
Rrrhhheeeehh
YBNL
Baba iya anybody

"[Lyrics] YBNL Mafia; Picazo, Yomi Blaze, Davolee, Limerick – "Juju, Guns & Roses"", 5 out of 5 based on 1 ratings.
---