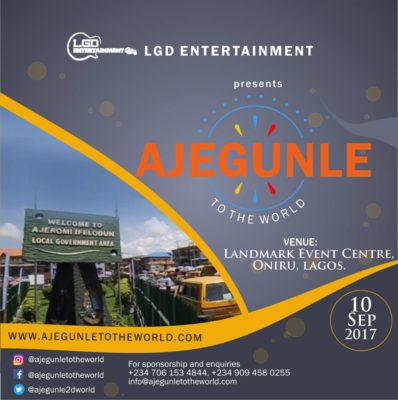 The maiden edition of 'Ajegunle to the world'; a showcase of success stories and celebration of the beauty and development in Ajegunle aimed at celebrating a land with raw and untapped treasures is set to hold in September 2017 in Lagos, Nigeria.
Ajegunle to the world is a project that is beyond just showcasing talents of the Old and New but also expose the distinguished and multi-farious culture,ethnicity and people of Ajegunle that has played a major role in the development of the entertainment industry from music, football, movies etc.
The modern day music industry was built on the benchmark set by the Ajegunle legend Daddy Showkey who made ground breaking records in his prime and also exposed the popular dance known as Galala of which still trends till present. According to the organisers, 'the project will put Ajegunle on the spotlight again as the hub for talents which has produced notable known characters, among who are Daddy showkey, Danfo drivers, Basket mouth, Don jazzy, kc presh, Frank Idoho(who wants to be a millioniare), Oritshefemi, Solid star, Saheed Osupa, Gideon Okeke, Charles Okafor, J-pizzle, Marvelous Benji, Pencil, Opj, Elenu,Tony Nwakeme,Ada Ameh,Dickson Nwakeme,Zeb Ejiro, Ruth Kadiri,Dprince,E money, Empero geezy, Prince kazeem eletu of osapa London,stereo man, Baba fryo, and footballers like Odion Ighalo, Obafemi Martins, Ifeayin odeyemi, Taribo west, Samson siasia, jonathan Akpoborie, victor Agali, and more'.
Ajegunle as the name implies in Yoruba language, where the name was derived from means a place where riches dwells. In other words a land with raw and untapped treasures (talents)
With this project we aim at aiding what government is doing in Ajegunle by empowering the youths via business and entrepreneurship seminars, football clinics, and music mentorship
The event is an LGD Entertainment production and its packaged by Motbensonz Solutions.
For More Information visit: www.ajegunletotheworld.com
For sponsorship : +2349094580255 , +2347061534844
---