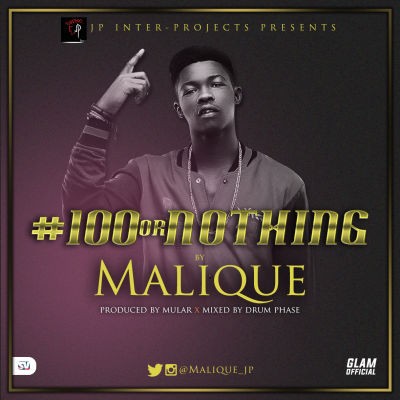 With his inspiration coming from the great Fela Anikulapo Kuti, Malique (real names Oluwasegun Malik Gbadamosi) is a young, talented and energetic artist who hails from the largest city in West Africa, Ibadan.
Malique can be referred to as a newbie in the Nigerian music industry but his delivery of lyrics and sound gets him in the pack of the new artists set for the takeover in the industry.
Born 22 years ago in Zaria, Nigeria, Malique is an Afro-fusion singer who started carving a niche for himself as a student of the Ajayi Crowther University, Oyo, where he graduated with a BSc in Mass Communication.
Malique is a bundle of talent and his official debut single, #100orNothing, will give an idea of the music greatness that is to come. It was produced by Mular and mixed by DrumPhase.
Malique is signed to JP Inter-Projects.
DOWNLOAD Malique – "#100orNothing"