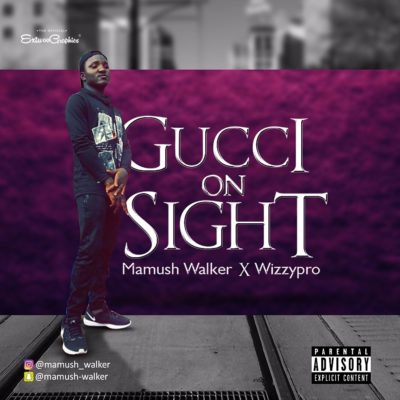 Mamush Walker makes a remarkable debut in the music scene with this lyrically deep song, 'Gucci on Sight' featuring Wizzypro.
'Gucci on Sight' was produced by prolific producer, SiniTheBeast a.k.a Sinister.
Isreal Valentine aka Mamush Walker has been working on his music for some years now, but only recently decided to hit the studio to record this song and this resulted in a massive song that is filled with deep lyrics and sounds too good for a first timer.
Mamush Walker has really made a huge statement in terms of standard and maturity with his debut song. When asked which rappers influenced his style of music, the Lagos based rapper said late Nigerian rapper Da Grin and American rap star Lil Wayne. He also noted that he started out as an indegeneous Yoruba rapper but sooner found out that he loved English rap more.
Follow Mamush Walker on Snapchat @Mamush-walker and Instagram @Mamush_walker.
Download: Gucci on Sight – Mamush Walker Ft. Wizzypro
---