Mavins Won Le Le, LadiPoe Magixx Rema.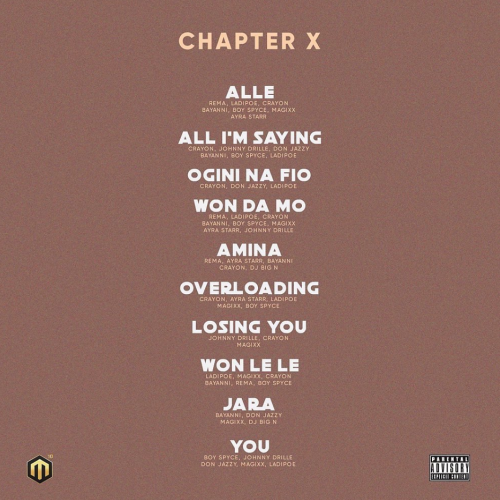 Won Le Le Lyrics, Song Written by LadiPoe, Magixx, Rema, Crayon, Bayanni, Boy Spyce. Additional vocals by Don Jazzy and Ayra Starr.
This new track off Mavins Chapter X album follows in similar prolific fashion-close to Won Da Mo in theme, the song is chest thumping and celebratory. Enjoy!
LYRICS

You know I don't even blame you
You didn't notice us
We started to shine
Yeah

They didn't notice till the moment I started to glow
Now pretty ladies drop it lower than konko below
Is that the reason that I carry my shoulders so high?
I guess it's just the arrogance starting to show (Trust me)
Now it's all about the commas when I'm speaking grammar
Balenciaga bag under the agbada
Remember when we couldn't even break bread?
Now I'm sitting at the table observing my manners
Chop bag, clean mouth, everybody code
Pull-up backstage, every groupie no be ho
Funny when you blow you be everybody bro
At least I got lifelines to show

Make no man come pour sand sand for my garri
Me I dey grind nonstop
Me no wan hear if it's not 'bout the money
As I dey run my run
Make no man come pour sand sand for my garri
Me I dey grind nonstop
Me no wan hear if it's not 'bout the money
As I dey run my run

Moni, won le le, won le le, won le ba
When we come through you know we shut it down
Pretty girls wanna buss it for me now
Uh, oh no, yeah
Won le le, won le le, won le ba
Pretty girls wanna buss it for me now
When we come through you know we shut it down
Uh, oh no, yeah

Oh yeah, yeah
All she wear na Gucci Gucci na na yeah
Omoge see as you sweet like sushi sushi, na na yeah
New money, new money
Omo no be new money pls don't call me
Old money, old money
Omo ama le won lere new money, yeah, yeah

Chale make you no dey waste my time
Tell me why you wan dey call my line
'Cause if it's not about the kudi, oh
Say me I don't give no damn
24/7 1'm on my grind
Be like say you no understand
'Cause if it's not about the kudi, oh
Say me I don't give no damn

Moni, won le le, won le le, won le ba
When we come through you know we shut it down
Pretty girls wanna buss it for me now
Uh, oh no, yeah
Won le le, won le le, won le ba
Pretty girls wanna buss it for me now
When we come through you know we shut it down
Uh, oh no, yeah

See me see wahala, hmm
Enemy wanna do me bad, hmm
Everybody know I no dey shout, hmm
Me I got my mind on the bag, hmm
Why you wanna run me scam?
If na race I go run your kele put am for my lap, hmm
Manager uninstall Twitter
Be like I go let the money start to talk for me sha

Now thema dancing to my reggae and my blues and my dancehall
Singing word for word to my music they call jargon
I be spitting fire to the mic like a dragon
Went from jumping danfo in Isolo to a wagon
I be writing songs everyday in my parlor
Who you wan underrate?
No go try me I bad gan
I be the king
I be the he
Gimme the keys to the Mercedes
Look gentle but I dey gba gan

Make no man come pour sand sand for my garri
Me I dey grind nonstop
Me no wan hear if it's not 'bout the money
As I dey run my run
Make no man come pour sand sand for my garri
Me I dey grind nonstop
Me no wan hear if it's not 'bout the money
As I dey run my run

Moni, won le le, won le le, won le ba
When we come through you know we shut it down
Pretty girls wanna buss it for me now
Uh, oh no, yeah
Won le le, won le le, won le ba
Pretty girls wanna buss it for me now
When we come through you know we shut it down
Uh, oh no, yeah