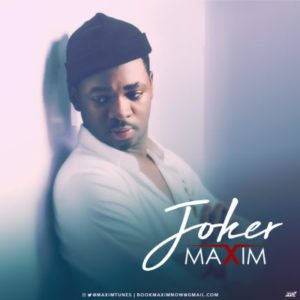 Adebola Oluwaseun Ayodeji, aka Maxim, is a pop Artist from Nigeria and a lover of Art, Music and Life. He started music professionally in 2006 with the release of his first single, Rise Up.
Since his emergence into the music industry, the singer, songwriter and guitarist has displayed the ability to deliver great vocals and capture the crux of what makes a timeless tune.
He came to recognition with his follow up single titled 'Victim of Emotions,' produced by Samklef with an excellent video directed by Igho Films in 2011.
His third official single boogie down, produced by Fliptyce, was released in 2013 and the video was directed by Michael Williams. He released Goodness and Mercy was in 2016. Produced by Shizzi and video directed by Tosin Igho.
Maxim's influences till date remain Lemar, Bob Marley, Kim Burrell, Boys II Men, Yanni and King Sunny Ade.
His new song Joker is a soulful ballad and a love story from the talented songwriter and vocal powerhouse. Follow Maxim @Maximtunes.
Joker was produced by Dresticks.
---