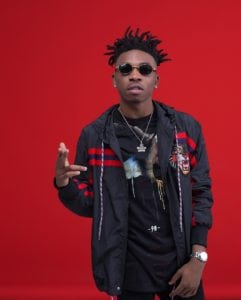 TX news reported that Mayorkun's Ibadan concert was marred with cases of violence and reckless sex. The story has forced the singer to made a reaction on Twitter.
Mayorkun held a concert in Ibadan over the weekend. The concert gathered a mass of Ibadan music loving residents at the Palms City Mall to enjoy the performances of artistes like Davido, Dremo and Terri of Starboy.
Upon the conclusion of the event, an online news outlet reported that the concert was flawed with violent incidents, one of which caused a journalist to be hospitalized. It was also reported that sexual activities took place while the show was going.

Mayorkun has however reacted to the news, saying that the venue of the event was overcrowded and that the reports about reckless sex came from the condoms that littered the ground where the event was held. He stated that the condoms came from people who participated in a sex awareness program which was held at the venue, but before his concert.
See his tweet below.
So iPlanned to see 5000 to 7000 people yesterday but iWas shocked to see 13,000 people ??

— MAYORKUN (@IamMayorKun) July 22, 2018
iWas ready to perform 2-3 hours before iPerformed, but iPromised maximum security so as soon as iGot news on how packed the mall was, had to get more security.

— MAYORKUN (@IamMayorKun) July 22, 2018
The entrance planned for me to use was already jam-packed, Had to go beg the mall to open the back gate for limited cars to come in.

— MAYORKUN (@IamMayorKun) July 22, 2018
And as regards condoms everywhere, apparently there was a sex awareness program going on in the mall.

— MAYORKUN (@IamMayorKun) July 22, 2018