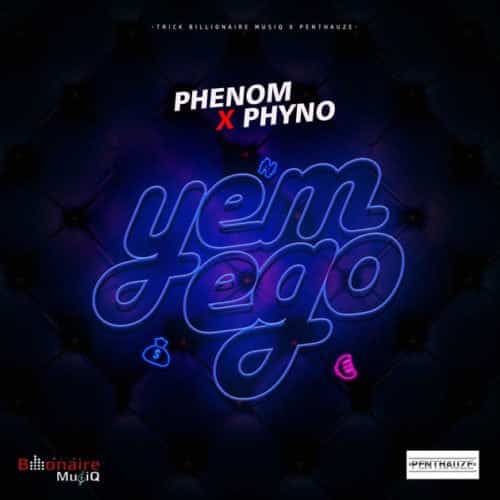 O na-akpo, nyem ego (efe n'ego)
Follow me, follow me, follow me, follow me go
Phenom, the phenomenal, is staging an unannounced comeback to the scene after his long hiatus. The rapper who was once rated one of the most lyrical Emcees around following the critical success of his verses on 6 Foot 7 Foot (M.I Abaga's cover) and Shuku Shuku Bambam, disappeared from the scene, in a case that caused hip-hop faithfuls to mourn the loss of another fine talent.
However they have cause to rejoice now that he is making a comeback. Interestingly, rather than make a grand press statement to announce his return, the gifted rapper seems to have decided to use his most potent tool: music. In the space of six months, he has put out three materials namely: On A 100, 4 AM At 4 Point and his latest single "Yem Ego" featuring Phyno.
Here's what we think about Phenom, Phyno and the new song, Yem Ego.
@ibironketweets Phenom's Yem Ego sounds like a tactically arranged hip-hop number with an appeal for music lovers in the East. You can hear more of the traditional sound of Easterners in the hook, and the concentration of bars on the song was expected. I mean, it's Phenom and on a comeback song, you'd expect him to be at his sharpest.
Although in the end, his verse can be rated as decent, they still fall short of the usual Phenom standard, such that it can be argued that Phyno had a better verse. Perhaps it's the rustiness that comes with been away for too long but hopefully "the viper" is only gradually nearing his best. While Yem Ego should be received with cheers and excitement, it isn't the big sound that Phenom needs to shoot back up.
@jimancipation Truthfully, I'm not the biggest Phenom fan but heck yeah, I loved his link ups with Wizkid of course (back then)  and I think Gyration, one of the songs on which he sang before he went silent again for yet another long while, happens to be my fave record from him. Apparently I have missed a couple of his road-to-comeback singles but this one with Phyno got my attention, and I thought it was especially nice for Phyno to have flawed my expectations, and quite impressively too by actually bringing his Obago prowess back on the track. It makes me ponder deeply over why he would rather opt for singing on songs like Zamo, Augment, One Chance, Isi Ego and Onyeoma.
With hopes that after a little over 3 minutes of play time, apt justice would have been done on a track that had the self-acclaimed 'best rapper alive' and the rumoured king of the East (should we take out Flavour from the mix), I found myself asking where the climax of Phenom's much-awaited comeback was laced on the song? Regardless, I loved the chant-esque intro where Phenom adapted Davido's familiar liar tagline "it's called…" into an Eastern dialect 'o na-akpo' and used it to create a battle ready rhythm. Only that it didn't seem like Phenom came 100 for this fight. It however doesn't take away from his satisfactory attempt and the fact that there's still for improvement, or like we prefer to put it now, fix up!
---