MI Abaga has just confirmed that he has been hiding from Vector all these while in regard to a beef track.
MI said this in response to a Twitter user who accused him of always hiding from Vector anytime the "Lafiaji" artiste threw shots at him. The user also asked MI not to be an hypocrite this time around after Vector dropped yet another diss track for the Chairman in which he threw shots at his fans too. The user however, wants him to come out as a warrior and not a coward to defend himself and his fans from Vector's attack.
On seeing this Twitter post, MI immediately responded, agreeing to the fact that he never wanted a face-off with Vector. He however promised not to shy away from the battle this time around as he would be going all out to make Vector feel his wrath.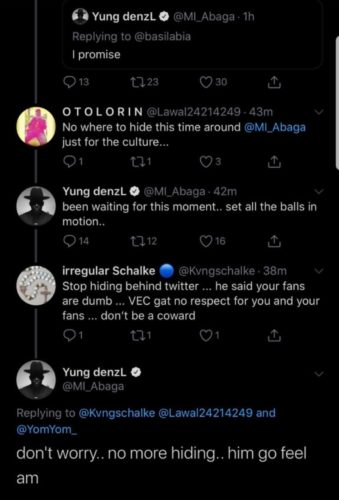 Could this be the battle the music industry have been waiting for? Well, maybe, y'all should brace yourselves up for what is to come.

"MI Confirms Always Hiding From A Rap Battle With Vector, Promises To Attack Him Fiercely This Time Around", 5 out of 5 based on 2 ratings.
Editor Rating

Rated 3.5 stars

Very Good
---
MI Confirms Always Hiding From A Rap Battle With Vector, Promises To Attack Him Fiercely This Time Around

Reviewed by:

Published on:

Last modified:
---
---