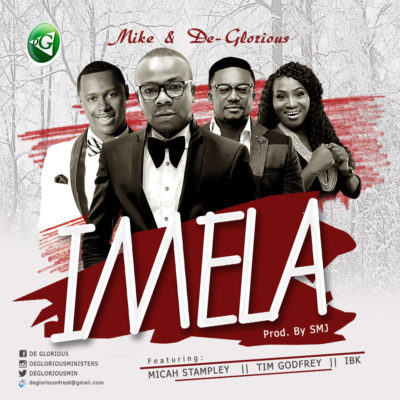 "IMELA"; song by Mike & De-Glorious is an anointed and impactful song.
This song features Micah Stampley (USA), Tim Godfrey and IBK. "The bible says count your blessings name them one by one and it will surprise you what the Lord has done." Mike & De-Glorious returns with this SMJ produced amazing Gospel Hit Song titled "IMELA", after the successful released of the previous single titled "My Case Is Different" earlier this year and now by divine inspiration, this song is going to make great impact in your life as you listen to it. Sing it with a heart of thanks giving and adoration and you will see how God will perfect all that concerns you. Listen to this; as long as you have the gift of life, this song is for you.  God bless you. Get connect with De-Glorious on Twitter @Degloriousmin.

"Mike x De-Glorious ft. Micah Stampley x Tim Godfery x IBK – IMELA", 5 out of 5 based on 1 ratings.
---