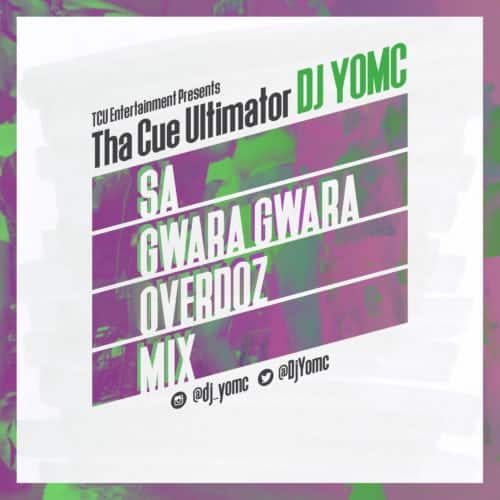 Surprised, as a talented DJ could come up with something like this, this is Extremely Amazing, DJ YomC which everyone knows popularly as Tha Cue Ultimator, drops a South Africa Mixtape, titled "SA Gwara Gwara Mix".
This mix was proven to be Dancehall Overdosed, This DJ is Lit, One Time for DJ YomC
Y'all should proudly support DJ YomC as this DJ has proven the love for SA POP with a Unique & Unusual Style of Mixing.
This mix you will hear Heavy Beats and you can't just stop doing the Gwara Gwara Dance Moves.
Tracklist
1.  DJ Thakzin – Mlahlo
2.  DJ Maphorisa Ft. DJ Shimza & Moonchild – Makhe
3.  Danny K – Starz
4.  Kabomo Ft. Busiswa & Berita – Lingashoni
5.  DJ Bongz Ft. Dbn Nyts & Fifi Cooper – Gwara Gwara
6.  Oskido Ft. Infinite Boys x Busiswa & Uhuru, Professor – Heya
7.  Character Ft. Busiswa & Uhuru – Nangu
8.  DJ Thakzin – Nako
9.  DJ SK Ft. Sdudla Noma1000 – Khumbulekhaya
10. Dlala Lazz Ft. Busiswa Vox – Yebo
11.  Hulasizwe Ft. DJ Micks – Uthando Olunjani
12.  Mr Luu & MSK – Sunday Chant
13. Nokwazi Ft. Heavy K – Sweetiemain Mix
14. Bizizi Ft. DJ Cleo – Thuso Phala
15. Uhuru Beat
16. DJ Tira Ft. DJ Maphorisa & Busiswa x Moonchild – 
Midnight
 Starring
17. Dlala Lazz Ft. Rude Boyz – Dlala Rude
18. Trademark Ft. Benga Boys – Ngekhe
19. DJ YK – South Africa Beat Dance Part 2
20. DJ YomC Ft. Du Somtin – Mufaale
21. Uhuru Ft. Tzozo – Chilolo
22. DJ Cleo Ft. Winnie Khumalo & Phantom – Yile Gqom
23. DJ Vetkuk – Not Yet
24. Uhuru Ft. Professor – Nduna
25. DJ Joejo Ft. Miss Sway & Sne Musik – Ubumnandi
26. DJ Tpz Ft. Bukeka – Bambolwam
27. Trademark Ft. Durbn Nyts & Zinhle, Ngidi – Shumaya
28. Uhuru Ft. Bongo Maffin – Thathi Sgubu
29. Uhuru Ft. Professor – Ketsetse
30. Mafikizolo Ft. Uhuru – Nakupenda
31. DJ Maphorisa Ft. Breyth x Moonchild Sanelly & Yasira Bhelz – Vuvushka
32. DJ Tira Ft. Tipcee & Joejo – Malume
33. Distruction Boyz Ft. Benny Maverick & Dladla Mshunqisi – Omunye
34. Babes Wodumo Ft. Mampintsha – Umzabhabha
35. Bizizi Ft. DJ Cleo – Thuso Phala
36. DJ Micks – Iyababa
37. DJ Sdunkero – Nothing Sweeter
38. Heavy K Ft. Bucie & Nokwazi – INde
39. Joocy Ft. Tipcee, Dladla Mshunqisi & Benzy – Mzimbo Nemali
40. DJ Boonu Ft. Ntando Duma x Duncan & Jaiva Zinike – Abangani Bami
41. DJ Sox Ft. Sir Bubzin x Baba Ka Nothing & Dotte – Phophotta
42. Madanon Ft. Babes Wodumo x Mampintsha & Dlala Thuk'zin – Usisi Oyedwa
43. TDK Macassette Ft. DJ Maphorisa & DJ Raybel x Dash – iWalk Ye Phara
44. Sho Madjozi – Huku
45. Sphectacula Ft. DJ Naves & DJ Tira x Beast – Bhampa
46. PS Djz Ft. DJ Toolz – Ingozi Danger Gevaar
---