Freeme Digital Presents ZoneOut Mixtape Vol 1.
13 is the Magic Number!
13 Mcs, 13 styles, 13 songs: All on one project!
FreeMe Digital presents: ZoneOut Mixtape Vol 1.
We have succeeded in pooling together 13 talented lyricists to create the first ever purely rap mixtape out of Naija!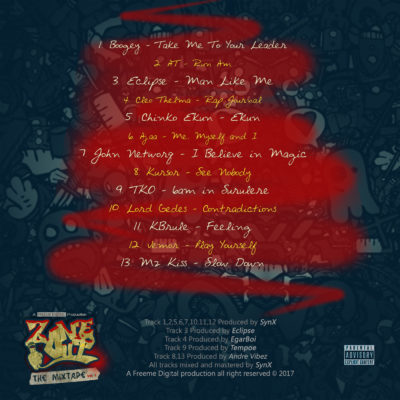 Featuring impressive performances from recognized lyricists like Chinko Ekun, Boogey, Mz Kiss, John Networq and other talented MCs, the entire project is a testimony to the lyrical dopeness that Nigeria is capable of!
The project is a plethora of several unique styles and flavours, combining old-school delivery with new-school flow, all to give you an unforgettable experience.
If you've had any doubts about the future of rap in Nigerian Rap, we have 3 words:
ZoneOut Mixtape Vol1.
---