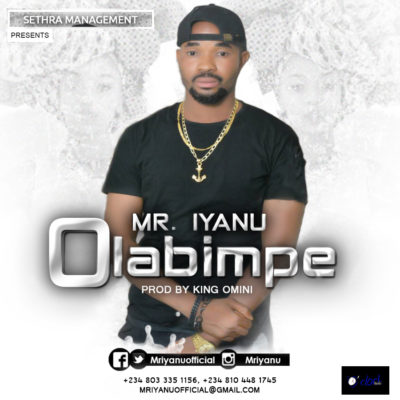 Nigerian pop singer, Emmanuel Iyanuoluwa Levi Ajimude, profoundly called by his stage name 'Mr. Iyanu' debuts new serenading music, christened 'Olabimpe'.
Mr. Iyanu – a gifted singer, started music at age 10 when he was fond of lip-syncing to Sir Shina Peters' songs, he successfully discovered his musical prowess and decided to pursue a career in music. Mr. Iyanuprofessionally delved into music in year 2005.
'Olabimpe' single was enthused from Mr. Iyanu's deep admiration for lovers who would go to any length to make their partners happy. Mr. Iyanu used his well composed lyrics to take the entertainment industry on a pleasant journey.
Coined from harmonious percussions, rhythmic trumpets, steady drums and coated on Mr. Iyanu'sadmired vocals, 'Olabimpe' becomes an all-round feel-good song that sends serenity down listeners' spines.
Mr Iyanu on 'Olabimpe', displays his ability to blend with different sounds and delivers stunningly on the King Omini-produced beat.
The unsigned act is managed by SETHRA_iNC management company. Stay updated with Mr. Iyanu on twitter @MrIyanuOfficial and @MrIyanu on Instagram.