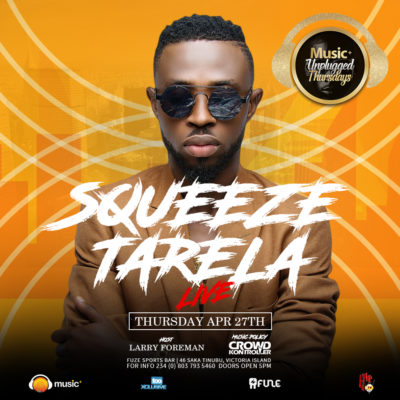 Another Thursday, another turn up!
Make it a date tonight as Music+ unleashes fire act, Squeeze Tarela, who will be bringing the raw heat sensation in dance hall, as well as Omotayo, joining to spell bind the music session tonight.
Eclectic OAP, Larry Foreman would be holding sway on hosting duties (as usual), and like you probably already guessed right, DJ Crowd Kontroller is the only policy governor we know for our #TGIT music series.
Date:  27th April, 2017
Time: 5pm to 10pm
Venue: Fuze Sports Bar – 46, Saka Tinubu Street, Victoria Island Lagos
Come and relax after work and sing to songs on the karaoke, listen to good music from the LIVE band and also watch your favourite artistes perform.
Remember, the Music+ unplugged sessions are strictly about good music, a cozy ambience, good food, FREE WI-FI, FREE COCKTAILS, karaoke, live band, your favourite celebrities, and a fun-filled evening.
#musicplusunpluggedthursdays #musicplus #musicplusunplugged #ThursdayisthenewFriday
follow us @_musicplus @musicplusunpluggedthursdays on IG and @musicplusunplug on Twitter
---