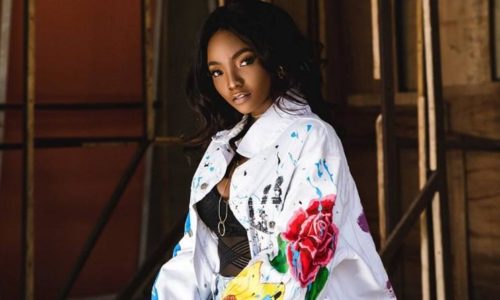 Simi has taken to her Twitter account to reveal that her unborn children when they are finally born will not be owning or getting access to mobile phones until they clock 24 years of age.
Simi made the announcement some hours ago and she based her reason for her intended decision on the fact that the internet is full of evil and corrupt practices. Simi posited that the internet is a scary place and she wouldn't want her kids to be exposed to such viciousness at ages when they wouldn't be equipped with the right mind to be able to resist evil and embrace good. She wrote; "My kids will be getting their first phones at 24, the internet is such a scary place."
However as always expected on the internet, she got a response from a Twitter user telling her if she does not give her kids access to phones at a young age, they will get access to it via the friends in school and Simi replied in the most hilarious way saying her kids will be going to school in her home. She wrote; "Gonna homeschool them too so ur kids can't show them their own."
It is very understandable as to why Simi seems to be pondering on taking such decision. The internet is already a place where morals are lost and sanity forgotten. A lot of kids learn the terrible side of the internet more than the bad side and this has continually damaged the society in a very severe manner.
Meanwhile, Simi is on the run up to the release of her album; "Omo Charlie Champagne" which is set to drop on the 19th of April which happens to be her birthday too.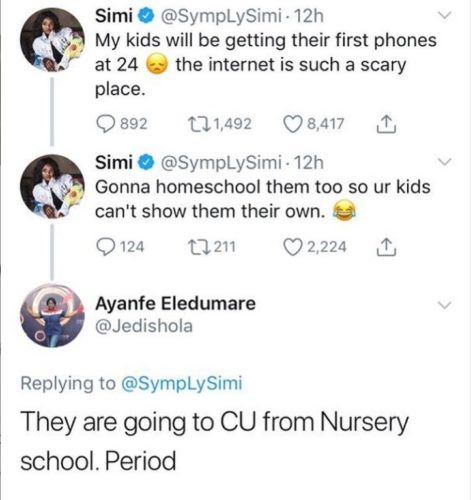 ---