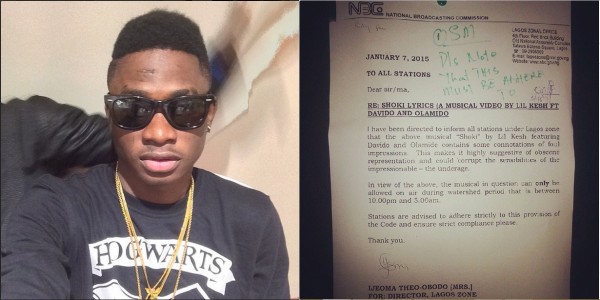 One of the hottest songs of 2014 by newcomer Lil Kesh, "Shoki rmx" ft Davido & Olamide,  is once again in the news for its ongoing issues with the Nigerian Broadcasting Authority (NBC).
In recent reports by Bellanaija, NBC has now placed a restriction on the time of airplay for the song. In a memo sent to all radio stations by NBC, the song can only be played between 10PM and 5AM due to the high number of foul impressions and obscene representations.
It can be recalled that towards the end of last year, this particular song was reported to have been banned by NBC for lewdness. The media adviser of the NBC who spoke at a press briefing then, said, "the song 'Shoki' which is a Yoruba slang for 'quickie' has spread to other African countries and everybody is singing what they don't understand, even my two year old daughter came to my room and just started muttering 'ahh shoki', its a scary experience, so we banned it".
This led to widespread protests especially across social media.
However, hours after, NBC released a press statement, denying banning the song that they has only sanctioned a radio station for playing the song during "family time"
 'We at the National Broadcasting Commission can confirm there was no such ban. A club version of the song cannot be played on radio. The club version contains vulgar lyrics, which was played around 9am, which is considered as 'family time'. There is a broadcast code to follow by every broadcast station and this station failed to comply. This said station has been sanctioned for playing a club version during family time. We at the NBC did not ban 'Shoki'- by Lil Kesh. We simply asked the suitable broadcast version to be played on the radio.'…