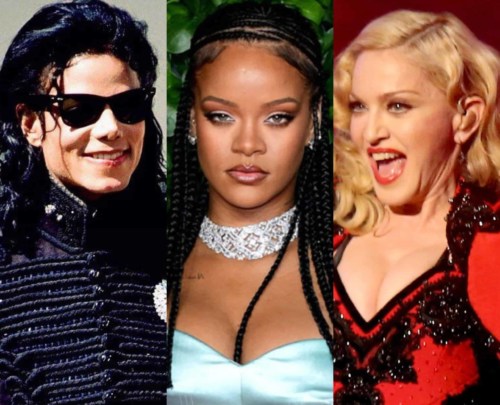 Billboard has revealed their list of the 10 greatest artists of all time.
A couple of hours ago, Billboarded computed a list of their greatest artist of all time and we are more than pumped to reveal it to you.
The Beatles, an English rock band, sits right at the top of the Billboard's Greatest of All-Time Hot 100 Artists list. Madonna, with 38 Hot 100 top 10s, the most among women, is ranked number 2 on the list.
She is closely followed by Elton John on #3, while Elvis Presley takes the number 4 spot, followed by Mariah Carey on #5.
Michael Jackson's fans are not so happy with his spot, as the king of pop is on number 8th, after Stevie Wonder and Janet Jackson. The 9th and 10th spots are given to Whitney Houston and Rihanna respectively.
See Post:
View this post on Instagram
Billboard's Greatest of All-Time Hot 100 Songs and Artists rankings are based on weekly performance on the Hot 100 from its inception on Aug. 4, 1958, up until the 6th of November, 2021.
In other news, peep the Greatest of All Time Hot 100 Songs, Top 10 below:
01. "Blinding Lights" – The Weeknd
02. "The Twist" – Chubby Checker
03. "Smooth" – Santana feat. Rob Thomas
04. "Mack the Knife" – Bobby Darin
05. "Uptown Funk!" – Mark Ronson feat. Bruno Mars
06. "How Do I Live" – LeAnn Rimes
07. "Party Rock Anthem" – LMFAO feat. Lauren Bennett & GoonRock
08. "I Gotta Feeling" – The Black Eyed Peas
09. "Macarena (Bayside Boys Mix)" – Los Del Rio
10. "Shape of You" – Ed Sheeran