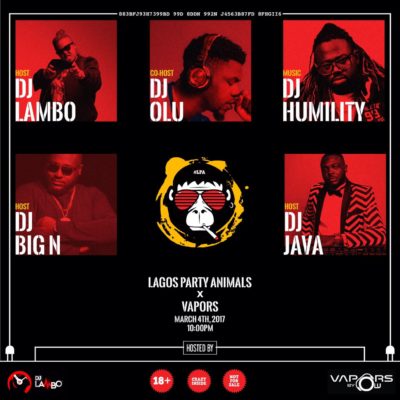 Lagos Party Animals hosted by Africa's foremost female DJ, DJ Lambo is back, better and much more crazier than ever before as DJ Lambo, DJ Humility, DJ Big N, DJ Olu, DJ Java all get set to shut Lagos down for this third edition of #LPA termed 'The Truth' this Saturday, March 4th, 2017.
As always, DJ Lambo will be hosting what is rapidly being termed as Nigeria's craziest party and she will be co-hosted by Vapors' own DJ Olu. The Hype men for the night will be none other than Sensei Uche and Shody.
It promises to be unarguably your biggest party experience. Gear up because this party is only for the strong hearted.
VENUE: VAPORS NIGHT CLUB,  VICTORIA ISLAND, LAGOS.
TIME: 10PM TILL YOU CAN PARTY NO MORE