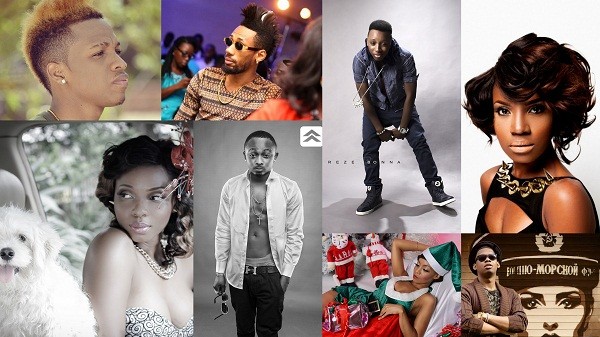 2013, which had its fair share of surprises, heavy flops and break-out stars, has come to an inevitable end. As we enter into another fresh music calendar, the TooXclusive team assisted by top blogger and music enthusiast Ogaga Sakapide have compiled a list of fast rising and buzzing artistes music followers and the general public at large should watch closely to ensure that we are not caught off guard this time around.
Ajebutter22
It's safe to say that certain unseen forces and taking a little break worked against Ajebutter22 in 2013. Here's to hoping he has learnt that you cannot be absent or quiet for months in the present state of the Nigerian Music Industry. The Omo Pastor rapper has woken up and has started putting in the work. All indication shows that 2014 will be a busy year for Ajebutter, and if he works on his craft, promotes his new songs 'Hire Killer' and 'Butter Was Here' like actual singles, Butter will definitely be back on course.
'Hire Killer'
Harrysongz a.k.a Mr. Songz
2014 might be Kcee's right hand man (Harrysongz) year if Kcee is ready to give Mr. Songz career the undivided attention it deserves. Mr. Songz is a talented song-writer and tenor vocalist, yet he has struggled to replicate his magic and hit-making skills for himself. Riding on the back of the new found attention his tribute to the late Nelson Mandela gained him, he has become an underdog to watch out for in 2014. Just as expected he has released a new solo single 'Tele Mi', with the proper promotion and marketing, Songz might be singing his way to our hearts.
'Tele Mi'
Orezi
He might not be receiving the acclaim, success and attention he deserves nonetheless Orezi has found his sound. Orezi armed with his stellar and overlooked vocals has been releasing high-octane singles which can be described as a fusion of ragga, afro-beats and pop music and it is safe to say he has mastered the art. His single 'Rihanna' topped charts internationally not-forgetting the fact that he has numerous club hit singles to his credit, this young man who is scheming a 2014 album release plans to posses his possession.
Phyno
Phyno!!! This indigenous rapper is undoubtedly the hottest musical export from the eastern part of Nigeria. The light-skinned afro hip-hop teamed up with Olamide for 'Ghost Mode', a song which became an award-winning smash hit and paved the way for Phyno to establish himself as a musical principality which he followed up with 'Man of the Year (Obago)'. Phyno's mo'hawk has graced numerous magazine covers and shows across Africa, as he prepares to premiere the video for 'Parcel' and also unleash a hotly anticipated LP. Phyno might just be the man of the year!
'Parcel'
Sean Tizzle
Sean Tizzle popped out of the blue in 2013 and became the year's breakthrough act scoring multiple solo hit singles like 'Sho Le', 'Mama Eh' and 'Komole'. The afro-pop star is a one-man battalion, armed with his C.E.O/producer D'tunes and a strategic, hard-working team that's helping him make almost anything is possible, Sean shocked many when he beat Burna Boy and Phyno at the 2013 Headies Awards by winning the highly coveted 'Next Rated' award.  Tizzle is currently putting finishing touches to his debut album while his new single 'Kilogbe' is climbing the charts, he definitely will be soaring to new heights in 2014.
Seyi Shay
If you are groomed by Beyonce's father it is certain that you are an irawo. Seyi Shay might have moved from Flytime Entertainment to J Management yet  she has managed to make herself a force to be reckoned with in the Nigerian music industry, as her single 'Irawo', her distinct vocals, amazing performance skills and high profile features has catapulted her to new heights and even won an endorsement contract with telecommunication giant Etisalat. Despite the fact that her new singles 'Ragga Ragga' and the Kcee assisted 'Chairman' are struggling to make a major impact, all eyes should be locked on the sultry songbird.
Tekno
Iyanya's label mate Tekno might just be 2014's break-out star if the gods are in his favour. He has already won himself thousands of fans and gained major of exposure due to his numerous collaborations and his Davido assisted sleeper hit 'Holiday'. There would be major domination by Tekno if only  MMMG should focus on this young man.
Temi Dollface
Dare to be different! Dare to be Temi Dollface! This pretty and easily likeable singer is not a vocal powerhouse yet her artistry is a vision of beauty and praise worthy. 2013 was like an introduction to Temi Dollface and she gained some recognition as the mild success of 'Pata Pata' and her distinct style landed her on some major shows and magazine covers and features. If she puts in more work, she will break new grounds this year and hopefully strike gold.
Yemi Alade
Everyone will tell you that there is no female like Yemi Alade out right now. The stage-craft of the sexy vocalist who won the maiden edition of the Peak Talent Show is unmatched not-forgetting the fact that while other females are battling to make Tiwa Savage-esque pop numbers, Ms. Alade is fighting for a seat with the male pop titans creating edgy pop numbers different and more risqué. Despite the fact that her single 'Ghen Ghen Love' did not solidify her as a household name, her new single Johnny is topping charts and dominating dance-floors across the country without a music video. Finally getting much deserved attention, a kick-ass video for 'Johnny' and high profile features and performances will take her to the very top of the food chain.
'Johnny'
DOWNLOAD 'GHEN GHEN LOVE' VIDEO
Yung6ix
The self-acclaimed best rapper in Nigeria might shock us this year. Yung6ix who is underrated has faced some major set-backs in his career owing to label issues, however the lyrical titan is getting his house together and preparing to released his long awaited album '6'0 Clock'. Rumoured to feature M.I, Ice Prince, Olamide, Yemi Alade and more; this album will definitely give this southern rapper the mic and spotlight if properly unveiled.
'Before I Go Broke' ft. Olamide
Notable Mentions:
Blink
Endia
Falz
Henry Knight
Niyola
Patoranking
Pyrse
Splash
Shaydee
Yung (of LOS)
Yung L
Complied by the TooXclusive Team & Ogaga Sakpaide