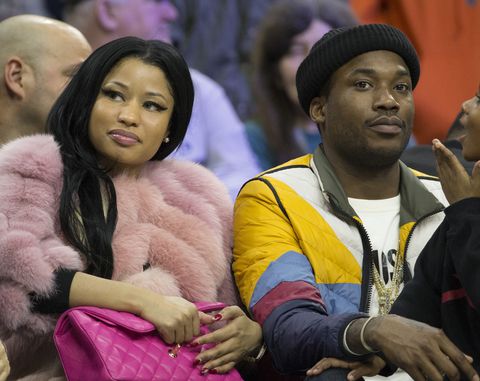 Years may have passed since Meek Mill and Nicki Minaj were in a committed romantic relationship with one another but they still manage to make the same headlines every once in a while.
The former couple had a bitter split and despite both of their professional careers absolutely striving, their personal lives have been pretty controversial. On Queen standout "Barbie Dreams," Nicki Minaj speaks on a handful of men in the industry, touching on Meek in one of her verses. "Meek still be in my DMs, I be havin' to duck him/ 'I used to pray for times like this' face-ass when I fuck him," raps the New Yorker. During a recent performance, the artist decided to stir the pot a little bit, threatening to expose her ex-boyfriend on stage and Meek wasn't too fond of the statement.
A video of Nicki's recent performance shows her cutting the music directly after that lyric, only for her to repeat it for the crowd to go nuts. She then says, "I mean, I could tell you secrets but I won't/Cause being a bitter bitch is what I don't."
Of course, Meek wasn't pleased after he heard of the stunt. He activated his Twitter fingers to snap back, writing, "Leave me alone you know I get a lil too out of control with the truth!" Since he never mentions Nicki by name, it's possible that he was subbing somebody else but the timing seems pretty coincidental.
---