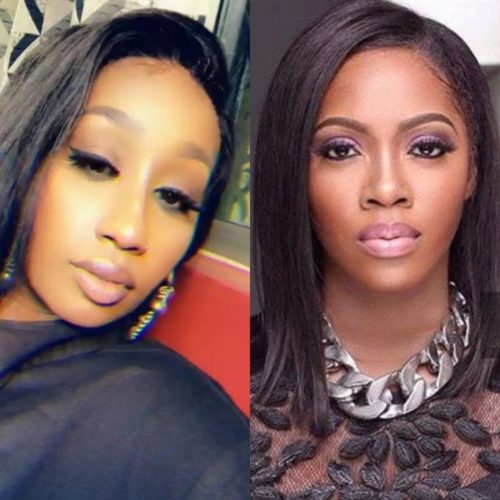 Since the controversy surrounding Victoria Kimani and Tiwa Savage commenced as a result of the Kenyan singer's Kizz Daniel's "Fvck You" challenge in which she alleged that Tiwa Savage blocks other female artiste from performing at shows, several personalities have weighed in on the issue and some are still doing.
The likes of show promoter and business man; Paul Okoye, MI Abaga and a few others have aired their opinions on the wide spread saga. But the latest person to have delivered his own remarks is popular fashion model and media person; Noble Igwe.
Noble said the reason why Victoria Kimani is hating on Tiwa Savage is simply because she is jealous. He said every other female artiste should just accept the fact that Tiwa is hot right now and the only female artiste the public will want to see in shows which in other words, defines the decision of the promoters on which female artiste should be in their events.
He advised Victoria and other female singers to stop spreading the news that Tiwa blocks them from performing at shows and instead they should focus on their music and work harder in order to strife.
"A lot of artist can win alongside Tiwa Savage but first, you have to admit that she's the best right now, If you are that good,nobody can stop your bag"
"Please explain to me, which female artist will promoters rather have than Tiwa? Like If you have a show and need to bag gate? Show promoters can have 40 male acts but it's Tiwa that will stop them from putting you on the show?"
"Tiwa Savage maybe goes a step further by asking the public not like your new music too? Wait, Tiwa then missed Temi from the list of female acts she penciled down to stop their Cheque"
"When Tiwa Savage went off to have her baby, who took the space or she told the public not to let anyone move into the space? If any show promoters ever told you that Tiwa stopped him from putting you on a gig, the person does not rate you. If you are needed and have anything to offer, no one can stop you and the street will always request for you"
"Tell your favs to get into the studio and work on their craft, I don't understand how it's okay to be having an afternoon bath in Tiwa Savage's sweat. The public are the ones that says who's hot and by that,demands who a promoter puts on a show."
He then went on to advice Tiwa to do another "Fvck You" challenge but this time around without saying no words. "Dear @tiwasavage, please put out another #Fvckyouchallenge video but in this one, just stay drinking tea while the beat plays in the background."
---