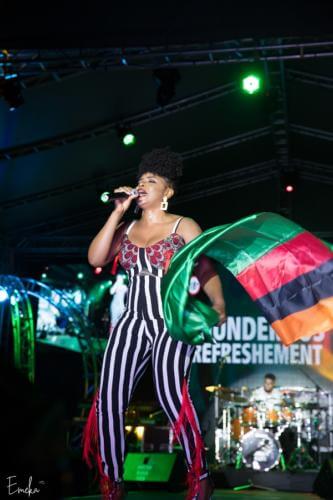 Singer, Yemi Alade has disclosed her take on the atrocities committed by SARS (Special Anti-Robbery Squad), a branch of the Nigerian police.
Mama Africa, as she is popularly called, has joined the plethora of celebrities that have reacted to the never-ending brutality of the SARS on civilians.
Nigerians have been constantly tormented by the barbaric acts of the SARS on fellow Nigerians. These individuals have been the source of tears in so many homes across the country which caused Nigerians to get fed up and the #EndSARS movement was born.
The "Yagi" singer expresses her displeasure at the viral videos of the savagery and cruelty of SARS and calls out the government for keeping mute to the pleas of citizens. She stated that nobody is safe and such acts will continue to encourage citizens to be less creative and useful to the nation.
She wrote  "Every video you see of police brutality to civilians it's so sad. Nobody from the government is saying anything. People all over the world are watching. Nobody is safe, how does this encourage Nigerians to be productive"

""Nobody Is Safe" – Singer, Yemi Alade Speaks On #EndSARS", 5 out of 5 based on 1 ratings.
---