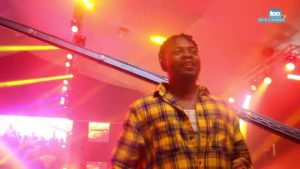 Olamide was part of the star-studded line-up that performed at the Hennessy Artistry concert that was held at Balmoral, Federal Palace Hotel on Saturday in Lagos.
Just as an indication of the justification of his inclusion in the line-up, Baddo proved all over again why he is "king of the street" and why he will continue to be until he wishes not.
The "Motigbana" singer dished out a fantastic performance to the audience, performing songs from his old but golden list of hit songs. Olamide performed "Durosoke," "Awon Goons Mi," "Lagos Boys,", "Who You Epp" and many more.
The crowd surely had a good time and enjoyed Olamide's legendary performance.
Watch video below: