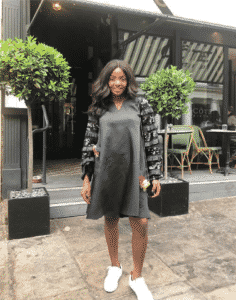 Is Simi trying to say something without saying something? Is she sending a message by just showing pictures? But really, is our dear Simisola pregnant?
Earlier today, Simi shared a picture that is fueling rumors that she might be pregnant. In the picture, Simi appeared to have a bulging stomach and some extra flesh. It stayed at a mere rumor because there wasn't enough to make the conclusion but by herself, she added firewood to the burning fire.
Simi followed up her initial post with two identical picture posts that suggests she is trying to pass a message that might have been missed in the first post. Interestingly, the caption in her next post was intended to make a revelation. She wrote, "In case you didn't see it the first time ?"
Clearly, there's a veiled message in her first post and the only thing new is the development in her stomach region. Going by the repeated picture posts and the leading captions, the rumors about Simi being pregnant seems believable.
It is expected that Simi would give a proper address to this rumor but it is important to note that the songstress has been especially involved with another singer, Adekunle Gold (AG). There has been unending rumors that the two singers are dating but there is little to prove the veracity of this story; just suggestive pictures, their known music chemistry and their social media banters.
The two singers created a passion-filled scene at AG's recently held concert at Indigo O2, in London. The urban high life singer, AG, has been linked to Simi's pregnancy rumor, as the man responsible and the rumor would not cease until he comes out like Shaggy to say "it wasn't me."
https://www.youtube.com/watch?v=4gJnfXp8LQ4
See post below.