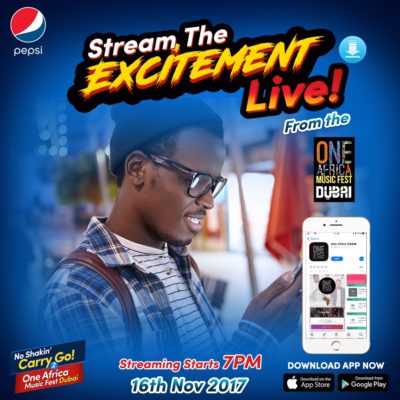 It appears there is no stopping Pepsi as they are in a back to back give away mood, and fans are absolutely loving it. Only recently did they reward 10 fans with a VVIP treatment to the One Africa Music Fest, Dubai after hundreds of fans jostled creatively for the grand prize. And when you thought that was it, they are giving the rest of us the opportunity to experience the One Africa Music Fest, Dubai live and win amazing goodies while at it.
All you need do is download the One Africa Global App, stream the One Africa Music Fest which is scheduled to hold on 16th, November 2017, 7pm Nigerian Time. Still wondering where the amazing prizes come in? Well, Pepsi is keeping her cards to her chest on that and you will only know when you stream the One Africa Music Fest.
Insert App download visual
The One Africa Music Fest is the biggest musical export out of Africa that showcases the best and the brightest musical talents in the continent, with the sole aim of solidifying Africa's position within the entertainment industry on a global level.
The festival has gone to some of the biggest cities around the world including Houston and New York and the November edition will feature the biggest African music stars plus your favorite refreshment, Pepsi in the magic city of Dubai. ..
Click the link below to download the One Africa Global app
bit.ly/oneafricaapp
---