Mr. P (Peter of P-Square) took to his Instagram to celebrate Nigeria's Independence Day and also one year of him been a solo artiste.
Mr. P half of the defunct Psquare his glad and happy he has found his way since he parted ways with is twin brother Paul (Rudeboy) this time last (see post) and he is thankful for the freedom he got and his career as a solo artiste. For Peter Okoye, this coincidence holds a special significance, as for one, Independence Day connotes the period Nigeria stopped being a colony of her former British master. Hence, the star has taken to celebrating this illustrious occasions, his own independence and Nigeria's very own birthday.
Mr P took his celebration to his Instagram page where he shared a video of a single which has, no doubt, made its mark in the Nigerian music scene. The solo artist has gotten credit with some of his singles like Cool It Down, For My Head, My Way, Ebeano, Wookie Wookie and he recently won his first award as a solo artiste.
While some fans out there are still waiting and praying for P-square to come back together, Mr P tend to be having a great deal and freedom as a solo artist.
See his post below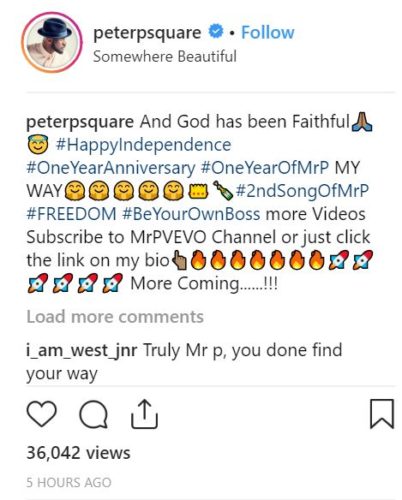 ---
---