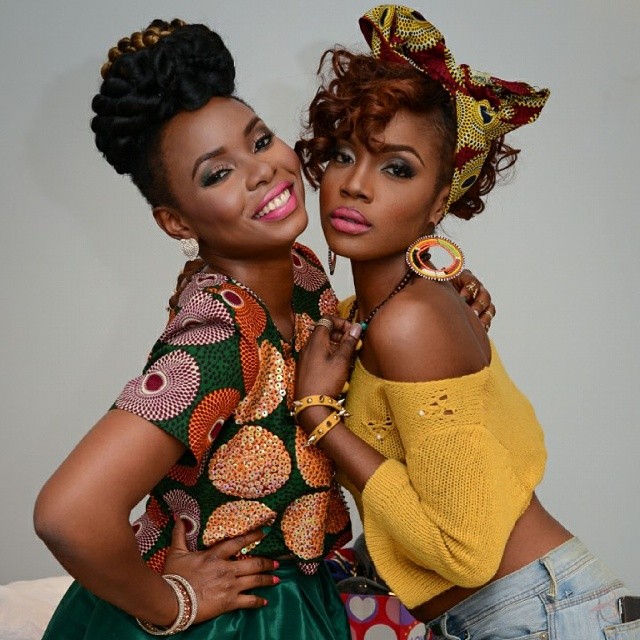 I'm elated to present a newcomer in our TX Editorial Series – Pitching Tents. This monthly feature will showcase side by side, two of the Industry's hottest and widely sought-after acts with the rationale not being to compare, but to highlight the individual characteristics that makes them the trail-blazing stars that they are (or have become) today.
Enjoy reading and please comment your thoughts below!
Seyi Shay aka Bossette
Damn! This chic can saaaiiinng. It's no wonder why she enjoys an envious vocal chemistry with any and everybody she's happened to be in a studio booth with. Seyi started music professionally alongside a group of girls who went on to becoming the best selling female group of all time, she's written songs for, as well as gone on tour with some of world's best acts. Since returning back to base, every track she's churned has further solidified her footing as a born-certified singing diva. She's opened exclusive gigs for the likes of Wizkid and Davido and delivered amazing show-stopping performances for city shows that have left jaws open and even brought tears in the eyes of some. Seyi Shay's music versatility is not only in the theatrical dynamics of her voice, it cuts into her genre preferences. From afro to ragga, acoustic soul, rap, hip-hop, pop and R&B, Ms Shay has bounced off verses and hooks of very memorable records with a select crop of artistes. Above all, she's a cute face with an irresistibly beautiful heart and a persona you will fall in love with over and over again.
All of these magic moments have been described by many as defining points in her career but if you ask me, I'll say we're yet to witness the grappling intensity of Seyi's charm till she fully unleashes the magic of Shay!
DOWNLOAD Seyi Shay "Air Brush"
Yemi Alade aka Ms Effyzie

Love her and love her some more because this gal is doing everything right. At a time when everyone else has given heed to an art already tailored by someone, Yemi Alade rose to the occasion by fashioning an eccentric title that's quite exciting, utterly creative, very rare and yet to be seconded by any. Can you beat that? I'm eager to see you try.
The stakes changed when Yemi emerged first place at the debut edition of Peak Talent Hunt armed with nothing other than her stellar sapphire voice, a brazen confidence and the wits to complement. From then onwards, her beacon shone the most with a flame that was burning the brightest. While her counterparts sought to bridge the gap created by the afro and western influences, Yemi championed a pan-African movement using her career and person as bait. Obviously, that risky move has paid off enormously because there's no terrain or language where her voice isn't heard. Adding to the fact that her signature sound, heavily fused with local elements come with the best cutting-edge production ever heard.
The never-ending search for Johnny further catapulted her to the rights of her reign as the King of Queens – a platform she has used to brew potentials while harnessing same to boundless limits. Just get out the way 'cos this "ho-ha" crooner is one quintessential songstress who isn't backing down easy or anytime soon.
Written by Jim Donnett
@jimancipation
---