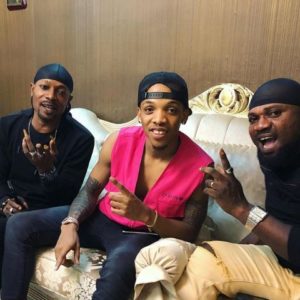 Danfo Drivers have reacted to the claim by the rumored originator of the Jogodo slang, Professor Linkin, that they collected N2m from Tekno as compensation for copyright infringement.
Recall that Danfo Drivers recently called out Tekno for remaking their hit song Kpolongo, which they released in 2003. But after a meeting between both parties, things were settled. Meanwhile, Linkin also released a song titled, Jogodo, in 2003.
Speaking with Sunday Scoop, Mountain Black of Danfo Drivers rubbished Linkin's claims that they collected N2m from Tekno. He said, "People like to say whatever they like. If I had collected money from Tekno, he would have revealed it. We have forgiven him and I made it clear to everyone. He is our boy; he sees us as role models. We looked at the bigger picture. We wanted to work with him as a brother; the new song will be released soon."
Mountain Black insisted that he had no idea what gave Linkin the impression that they collected money from Tekno. He added, "Though it has been a while since he saw us, he is our friend. It makes no sense for him to accuse us wrongly. If we had collected money from Tekno, will he collect it from us?"
"I was only annoyed that Tekno used our song without telling us, which made us call him out. When he came to Abuja and apologised, we forgave him. The Bible says many are called but few are chosen. We thank God that we are among the chosen ones; so, I don't need to fight anyone. Tekno is the rave of the moment. If I work with him, he can give me a hit song."
Reacting to Prof Linkin's claims that he is the original owner of the word, Jogodo, Mountain Black said the fact that Tekno used the word Jogodo didn't make it his song. He said, "When people listened to Tekno's Jogodo, who did they say sang it? If you hear the lyrics of Tekno's song, you don't need anyone to tell you that it is the remake of our song. He has no rights to fight Tekno. He should go to the studio and record new songs for him to remain relevant; he should not be after what Tekno will give him. We started music before he did. How many people know his song, Jogodo? We didn't even start the fight with Tekno ourselves, fans did."

"Prof. Linkin Should Stop Begging Tekno For Money – Danfo Drivers", 5 out of 5 based on 1 ratings.
---