So, you guys remember the first time we heard Kim Kardashian was set to drop a song? A lot of people went like B***ch please!!! What on earth does she know? What havoc is she set to unleash on the ear drums and guts of those who are so enthralled and obsessed by her 'being' and those who just hate her guts entirely. Boy, were there so many criticism…Some called Kim, the worst singer of all time, so said she best sit down stripping and making money than attempting to sing(No one acknowledged turn it up as her singing), and now today, Jim Donnett, is causing and bringing to the fore same reactions from people who have for a while LOYALLY followed his writing and criticisms.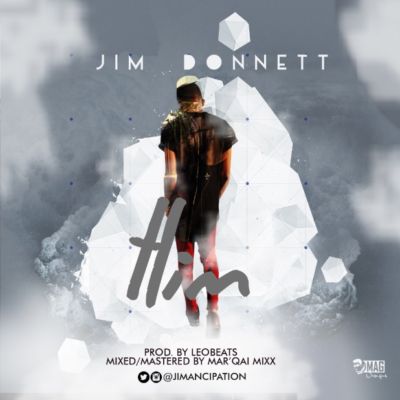 Forgive me guys for just doing this now…life got in the way of turning this in on time, so lets dive right into the review of 'Him'.
The song 'Him' (Jim Donnett's way of  cooking his autobiography with music) was releases amidst the notoriety of his writing, paving the way for so many fans (I'd like to say) who have for months held one or two grudges against him for belittling or criticizing some of their idols, thus the backlash from some of the people who never really listened to this song.
Basically, HIM, is Jim Donnett's way of introducing himself to the world, letting the world know he is the newest kid on the block and he is here to stay, (in my opinion…turning pain, dreams and wishes into POWER) backed by the grace of God of course. HIM, is a revelation and reminder to all and sundry that Jim Donnett is a bluesy singer/songwriter with the passionate soul of insanely brilliant persona who has the capacity to touch the hardest and depressed of hearts. The tasteful sound production to his song is another way t showcase Jim Donnett's Tenor vocal ability which if stretched further might yield the'Whisper Register' many artistes (good artistes) would die for.
Armed with his Dare Art Alade, Soulful ballad vocal ability, Jim, gradually draws us further into the song, giving us a gospel fever blues vibe yet remains somewhat sexy but majorly inspiring. His mellow vocals placed delicately yet powerfully on each word is just another reason to see 'HIM' 'Coming Alive'.
The organic production, meaningful lyrics, vocal stability and ability coupled with his mind blowing tenor and pronunciation power, is a good way to introduce one's self into the competitive industry.
Now, asides the fact that at first an impatient listener might not get the message of this song and its not a Ycee, Olamide, Lil Kesh, Davido, Mayorkun kinda song, I dare say this barely 4-minutes long song, has carved a spot in our eardrums and our hearts. Should Jim Donnett decide on holding out on more songs for now, I dare say 'HIM' is enough for now!
Written by: Tope Delano