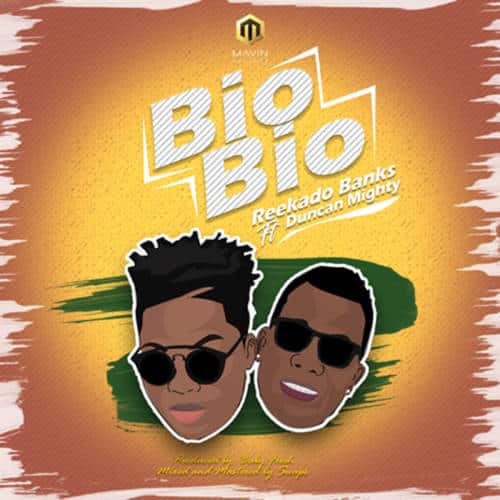 (Oh my baby want to dance) Obianuju biko
(Say me I no be Wene Mighty) na you, na you, ewo
–
(Bio bio bio) bio bio bio

It is a popular industry talk that Reekado Banks is just one class behind the industry's first class acts. He has been a star since Dorobucci and he has since been knocking on the door to the upper echelons of the industry – putting out hit records, impressing on a number of collaborations, recording a well received debut album and winning a fair amount of awards for his effort.
He came into the year basking in the success of his 2017 mash-up single that turned into a major record. Then he dropped a radio friendly pop single as his first material of the year and followed it up with something similar. He looks to take things notches up with his most recent single on which he featured the rave of the moment, whose collaboration with Wizkid has brought a new pop sound suggestion. Reekado Banks featured Duncan Mighty on 'Bio Bio'.
Read our thoughts on the song below:
@ibironketweets Duncan Mighty's signature Eastern high life sound which lit up 'Fake Love', is the same charm of this song, except that the introduction of new musical elements by the producer, Baby Fresh, brought more bounce and pace to the sound, giving it a wider pop covering in a way that it does not sound strange to Reekado Banks' fans.
Duncan Mighty's presence on the song seems to be a calculated move to replicate the success of Fake Love, especially because he now owns one of the hot properties in the pop circle – a signature sound that offers some sort of better alternative to the ageing Shaku Shaku trend. I imagine that Reekado called-up DM and said, "let's do something like Fake Love", and the outcome is a hard to follow replica.
@jimancipation Reekado Banks showed his penchant for music styles of different genres when he dropped his debut album Spotlight, which sampled a variety of rich sounds from R&B to Pop, Dance hall, Afrobeats and even High life, of course not without the spicy Reekado edge to them. He has also proven his talent 's worth after a series of hit songs from the Mavins camp, and a string of winning collaborative features to tack-on with.
Now 'Bio Bio' is not any different – it is same old Reekado Banks, probably at hi/s usual best, but surely not less of his standard self, and he crucified Babyfresh's unique beat with vocal swag and musical vibes from the East. Wene Mighty's signature vocal flava complemented flawlessly with the stylish sound. The veteran musician has a way of giving meaning to the jollof-ness of any song, and the best part is he doesn't let you miss it. Bio Bio was definitely created to light up the dance floor and it is safe to say that it will achieve this purpose each and every other time.
————————————–
What are your thoughts on Reekado Banks and Duncan Mighty's collaborative single 'Bio Bio'? Write in the comment section below.