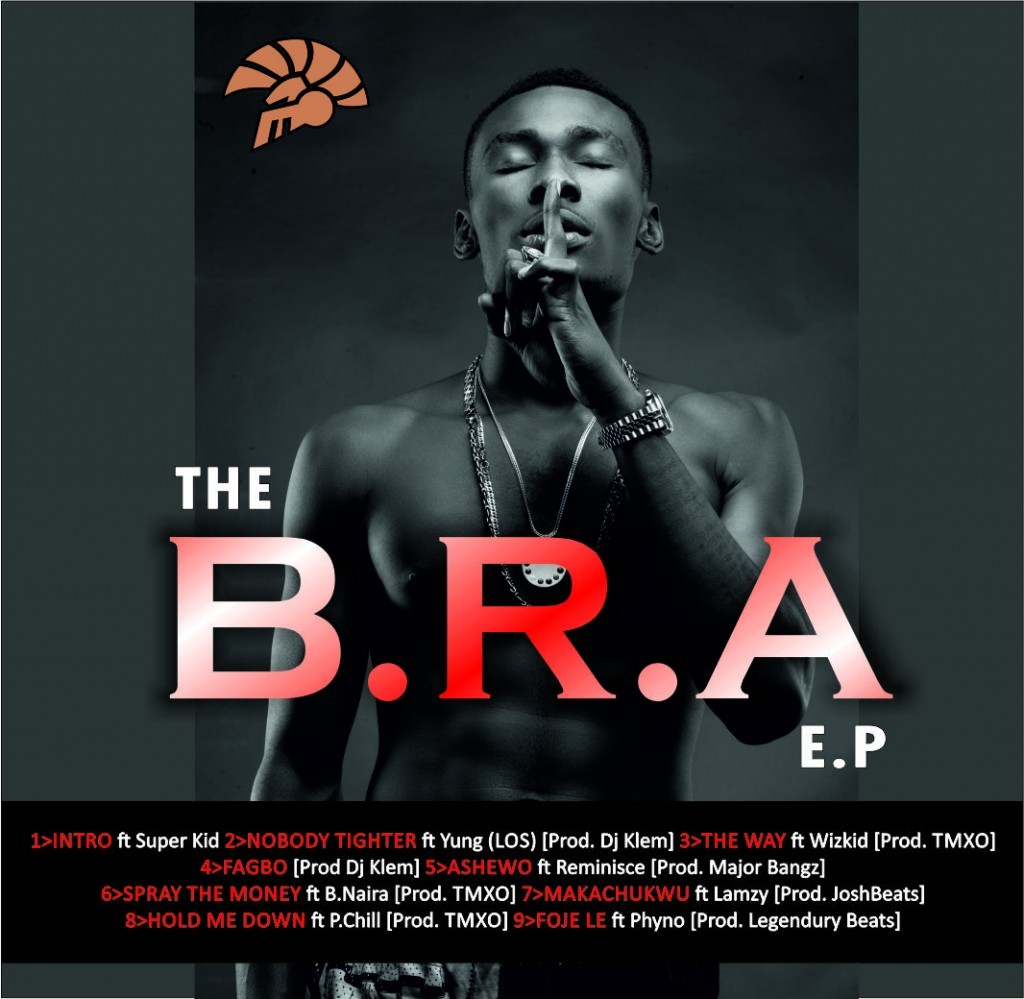 Artiste – Phenom
Extended Play – B.R.A (Best Rapper Alive)
Features – Wizkid, Yung (LOS), Phyno, Lamzy, Superkid, B.Naira, P.Chill
Producers – DJ Klem, Legendury Beatz, TMXO, JoshBeats, Major Bangz
Label – Knighthouse (2014)
Duration – 31.56
The B.R.A E.P is undoubtedly a hip-hop piece that is guaranteed substantial appreciation with its mainstream delivery, as regards to structure of the tracks and lyrical content. The E.P features radio friendly songs laden with catchy hooks, articulate flows, a flood of dry puns (which is fairly negligible because let's face it, which rapper home and abroad isn't merrily whipping them out?), and some Phenom-enalphury as heard on tracks such as "Ashewo" with Reminisce and "Foje" featuring Phyno. "Foje" with Phyno packs quite some hip hop wallop as Phyno brings the thumpfest of bars and vernacular metaphors. "Ashewo" on the other hand is no doubt the ultimate "you should bump to this track" and it is certainly one to cause an up-roar with a hook that male listeners will crank up in volume and chant along in high and immoral spirits.
Phenom presents a mainstream success with the Best Rapper Alive E.P, but the overall performance as far as lyrical delivery falls beneath requirement if such a title is to be permitted (despite being claimed by every individual who handles a mic and has 16bars to offer). If making good songs was the mission then he can rest assured that he brought his A-game, but if Phenom also sought to showcase superior prowess in the art of rap then perhaps there should have been more focus on lyrical depth with stronger punch lines that can captivate. Hitting us with "I'm at the peak with 3 crowns you can't take me low (milo)" is permissible, but it doesn't present Phenom as the hiphopbeowolf we would prefer he is regarded as, and the E.P is burdened with such lines. The sound technique and flow he possesses came devoid of formidable content, intentionally done or not.
Bottom-line is Phenom can spit, always could, and like every rap track compilation the E.P has its highs and its lows. Verdict is 3 stars out of 5…Oh yeah and he also said; "Gold circle bars I fit bust anytime".
Stand-out Tracks: Fagbo, Ashewo, Nobody Tighter, Foje

Download Phenom's THE B.R.A E.P' HERE