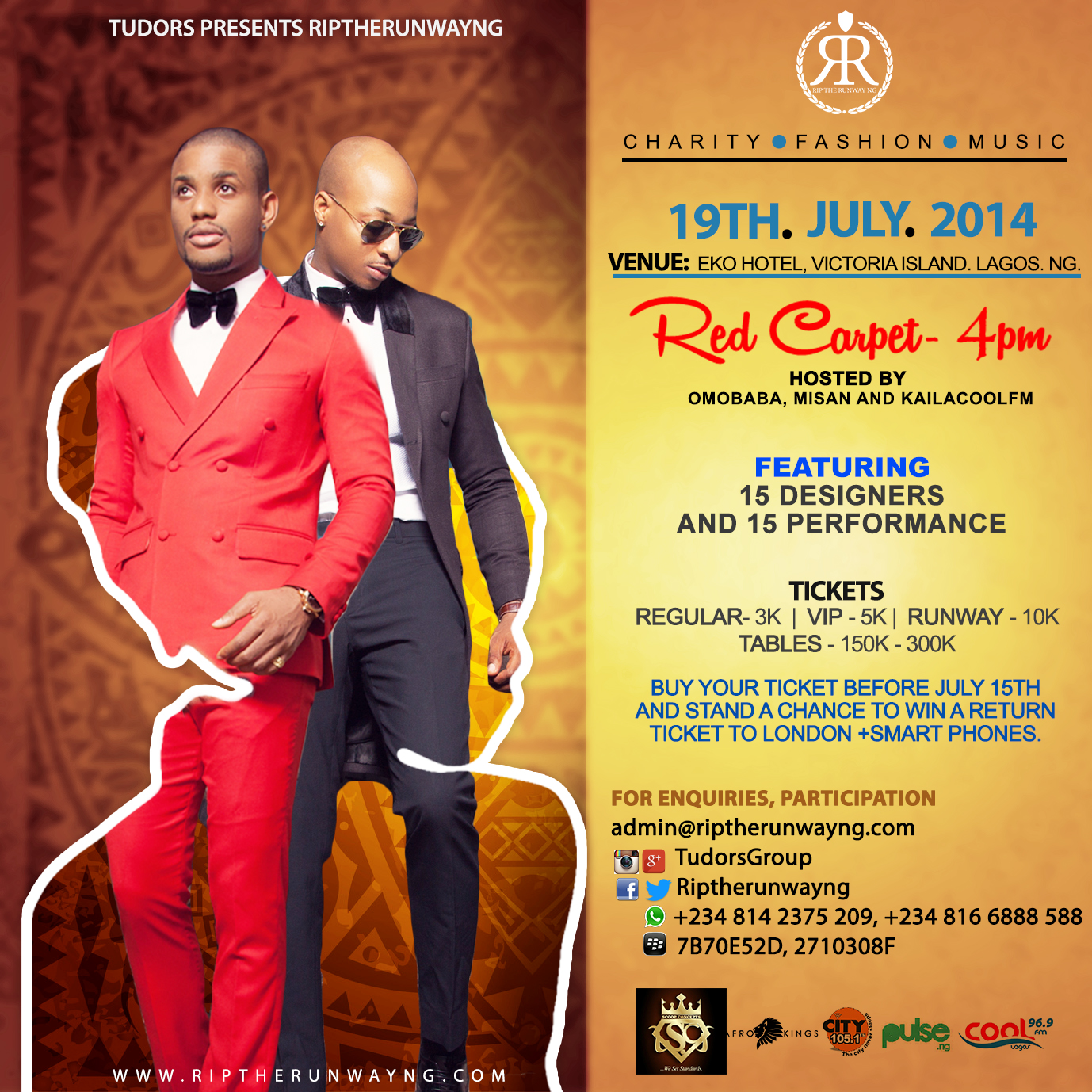 Following 2 successful editions of RIP THE RUNWAY in 2012 and 2013 at Oriental Hotel & Suites in Victoria Island, Lagos, TUDORS GROUP spearheaded by Ogunbiyi Olubiyi is pleased to announce the third edition of the hit show this year RIPTHERUNWAYNG 3 (RTR3) 2014.

The event, now in its third year, aims to promote talents in the Music and Fashion industries by fusing performances by some of the most outstanding artists in the Nigerian Music industry and with a runway showcase featuring some of the most creative designs by top notch up-and-coming designers Nigeria has to offer, from Pret-a-Porter to Couture Fashion.
This event goes beyond the efforts to support Fashion and Music, it also provides opportunities for philanthropic growth through the Walking The Runway for the Nigerian Child RTR Foundation, as a percentage of proceeds raised from tables sold at the event will be donated to a chosen charity organizations to encourage young students to follow their dreams as most of their schools are plagued with infrastructural deficit common to the Nigerian educational system.
Ogunbiyi Olubiyi producer of the show states: "I have very high expectations for the show this year. If you enjoyed the show last year, you are guaranteed a better experience this year. With this year's new additions and concept we plan to make the show more trendy, fierce and over the top. From the designers, music artists, top models and people in attendance, RTR2014 will surely create a greater impact this year'.

RTR2014 holds on the 19th of July of this Year at The Eko Hotel and Suites
Hosted by UnRashon and Misan FLS
With Rib Cracking Comedy from OMOBABA NO 1

Festuring top Designers- Jason Porsche • JReason • John Exzomo • Conae •Invasion L'Afrique • Demil • MOA • Jache Ramon • El Peri • Imperfectly Perfect • T16 • FS • Frisch and FayDead
Billed Acts by UK Dance Group D3 Dancers
Music and appearances by     Patoranking • Davido • Danagog HKN • Slyde • Muna • Dj Olu HKN + More!!
Rib Cracking COMEDY from OMOBABA No 1

For  Inquires/SponsorshipContact: 08142375209, 0816 688 8588

Media Supporters: Mnet 53 EXTRA, BELLANAIJA, STV , HIPTV, TooXCLUSIVE + More

proudly supported by COOLFM & WazobiaInfo, CityFM , AFROKINGS, Buyology  and scoopconcepts

This Event is POWERED by TUDORS GROUP
---