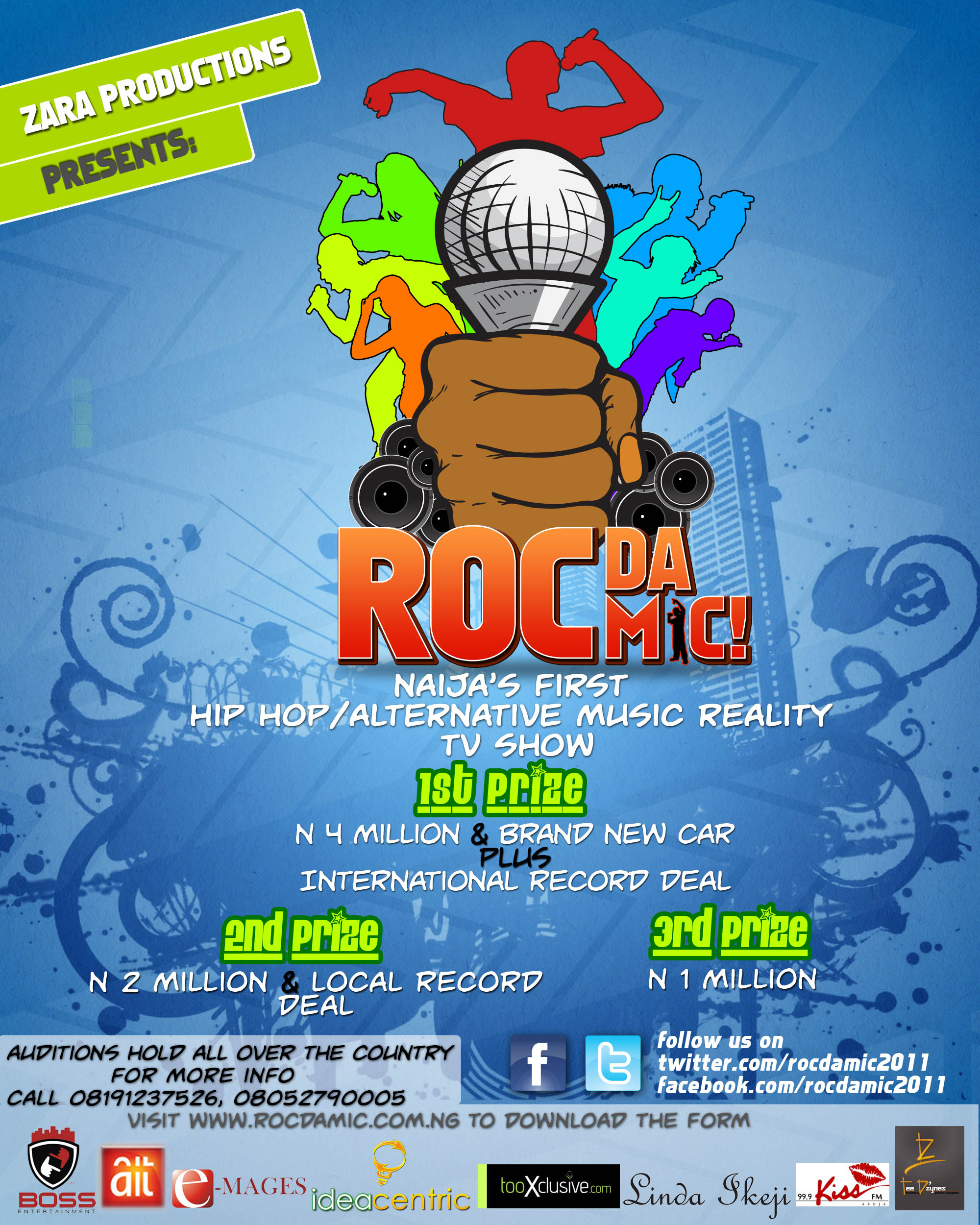 Zara productions and  Tooxclusive.com are proud to present the first ever hip-hop /alternative Nigerian music reality show/ talent quest search with cash prizes of  7 million Naira in cash , 2 record deals and  Loads of consolation prizes.
The Nigerian music is constantly growing and constantly evolving. One of the dominant trends in the industry is the combination of foreign sounds with sounds that are indigenous to Nigeria, hereby creating a sound that is totally unique to Nigeria. This unique sound has been given a lot of names at various times by various people but we have chosen to put them under the umbrella known as alternative Nigerian music.
Another dominant trend in the industry is hip-hop. Hip-hop has played a strong role in the growth of Nigerian music and some of the biggest stars in the country are hip-hop artists who have been able to mix American hip-hop with a distinguishable Nigerian feel hereby creating the phenomenon known as Nigerian hip-hop. Nigerian hip-hop is striving and is loved by millions of Nigerian youths who have embraced the movement wholeheartedly. Almost every Nigerian youth has one time or the other attempted to rap, flow, or shown interests in hip-hop.
It was therefore sad that there was really no major platform for these young people to showcase their talents as most of the existing platforms do not include hip-hop or alternative Nigerian music as part of their interest. It is therefore in a bid to create opportunities for the growth of this genre and for the discovery of talent that the idea for Roc Da Mic was born.
Roc Da Mic is a hip-hop alternative Nigerian music reality show/ talent quest search. It was borne out of the need to create a platform for the thousands of Nigerian youths who have the talent and passion for hip-hop and Nigerian music. It's the first of its kind in Nigeria and it's intended to impact the music industry in positive way by creating stars who will in turn add value to the industry.
PROCESS OF PARTICIPATION
The search is open to all interested youth who are talented in either hip-hop or alternative Nigerian music or both. They can participate by downloading the form from the website www.rocdamic.com.ng and paying in the sum of Four Thousand Naira into Account Name: Zara Production (Roc Da Mic) account number 0058569754 in any Oceanic Bank branch nationwide.
Auditions will be held at designated centres all around the country.
The show will be aired on Africa Independent Television (AIT), from October 2011.

WHAT YOU STAND TO GAIN FROM PARTICIPATING
1ST PRIZE – 4million Naira +Brand New Car+ International Recording Contract worth Millions of Naira
2ND PRIZE – 2million Naira + Local Recording Contract worth Millions of Naira
3RD PRIZE – 1million Naira + Loads of consolation prizes.
DOWNLOAD APPLICATION FORM 
For more information, please contact us on:
08036759928  08073397018 08191237526