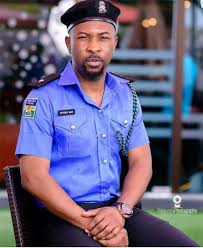 Ruggedman has slammed the Assistant Commissioner of Police, Yomi Shogunle for sharing a fake story about him.
The rapper who is one of the popular proponents on the #ENDSARS movement, which is a reaction campaign to the illicit activities of SARS officers, recently worked with the OC of the SARS unit to enlighten the public on how to differentiate commissioned SARS officers from impostors. Ruggedman shared a video in which he pointed out the symbols of identification of a true SARS officers.
In reaction to the ASP Yomi Shogunle took to social media to mock Ruggedman. The Police officer wrote that the rapper has abandoned the #ENDSARS movement. Yomi Shogunle on social media wrote "BREAKING NEWS: Nigerian Celebrity @ruggedybaba endorse Federal SARS. The Abia State born rapper decamped from the #ENDSARS party and joined #ReformSARSparty."
The post has forced a counter-reaction from Ruggedman who blasted the high-ranked police officer. Ruggedman made a post on Instagram stating that ACP Yomi Shogunle is a shameless liar and a disgrace to the Nigerian Police Force.
In a new development, Police PRO, Dolapo Badmus has reacted to the post made by Ruggedman to enlighten the public about the means of identifying a true SARS officer. The Police PRO expressed her surprise that the rapper mentioned her in the post, stating that he has left her out of his previous post. She also stated that the rapper's posts are contradictory and confusing. She hammered home her point with the idiom; "you can't eat your cake and have it."
---