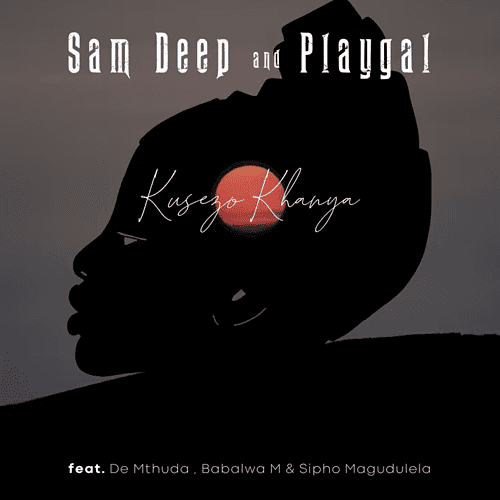 Get "Kusezo Khanya" by Sam Deep & Playgal, featuring De Mthuda, and Babalwa M below. You can't afford to miss out on this Platinum hit record!
South African producer and disc jockey, Sam Deep teams up with Playgal, De Mthuda, Babalwa M and Magudulela to earn his first global hit song title, "Kusezo Khanya". Babalwa M spiced this amapiano track up with her lovely vocals, guitarist Sipho Magudulela also did an amazing job with the springs of this tune.
CREDIT
Associated Performer, Music Production: Sam Deep
Producer, Associated Performer, Music Production: De Mthuda
Associated Performer, Singer: Playgal & Babalwa M
Composer Lyricist: Sam Deep, Mthuthuzeli Gift Khona, Babalwa M & Sipho Magudulela.
ENJOY!!
Ixesha liyahamba
Pakish'impahla samb'
Izinto ziyahlangana
Khuluma nawe dali (Khuluma nawe dali)
Ixesha liyahamba
Pakish'impahla samb'
Izinto ziyahlangana
Khuluma nawe dali (Khuluma nawe dali)
Ixesha liyahamba
Pakish'impahla samb'
Izinto ziyahlangana
Khuluma nawe dali (Khuluma nawe dali)
Ixesha liyahamba
Pakish'impahla samb'
Izinto ziyahlangana
Khuluma nawe dali (Khuluma nawe dali)
Aw thetha nam' dali (Thetha nam' dali)
Aw kusezo khanya (Kusezo khanya)
Khuluma nawe dali
Aw kusezo khanya
Khuluma nawe dali (Khuluma nawe dali)
Aw kusezo khanya (Kusezo khanya)
Aye khuluma nawe dali (Khuluma nawe dali)
Kusezo khanya (Kusezo khanya)
Ai ubusuku bonke (Ai ubusuku bonke)
Kusezo khanya (Ai ubusuku bonke)
Ai ubusuku bonke
Ai ubusuku bonke
Aw thetha nam' dali (Thetha nam' dali)
Eh kus?zo khanya (Kusezo khanya)
Khuluma nawe dali
Aw kusezo khanya
Khuluma naw? dali (Khuluma nawe dali)
Aw kusezo khanya (Kusezo khanya)
Khuluma nawe dali (Khuluma nawe dali)
Kusezo khanya (Kusezo khanya)
Ai ubusuku bonke (Ai ubusuku bonke)
Kusezo khanya (Ai ubusuku bonke)
Ai ubusuku bonke
Ai ubusuku bonke (Ai ubusuku bonke)
Kusezo khanya (Ai ubusuku bonke)
Ai ubusuku bonke