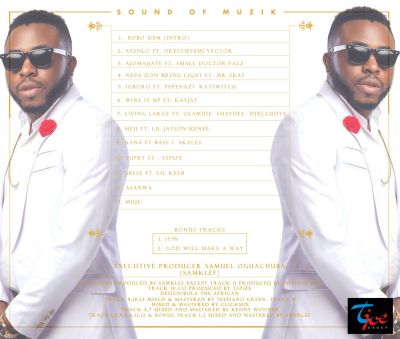 Nigeria's top producer "Samklef", founder and CEO of Klef Sounds, has released the first official tracklist of the 2nd album "SOUND OF MUZIK".
The year 2015 has been good year for the super producer, as he has been consistent in churning out amazing hits for the listening pleasure of his fans.
Samklef who has been releasing at least a single every week is now done from the music kitchen "studio" and ready to thrill his ever loyal fans.
"SOUND OF MUSIK" is an album you all need to anticipate. Its a compendium of the best of the best, with an avalanche of A-list featuring which includes VECTOR, ORITSE FEMI, SMALL DOCTOR, FALZ, MR2KAY, PEPENAZI, KAYSWITCH, KAYJAY, OLAMIDE, SHAYDEE, DJ XCLUSIVE, LIL JASON, KENEE, BASEONE, SKALES, TSPIZE, and LIL KESH.
Amazingly, all songs were produced by the Man himself; SAMKLEF for KLEF SOUNDS except track 11 which was produced by JAYPIZZLE and TRACK 10 which was co-produced by TSPICE.
"SOUND OF MUSIK" will be officially released on the 21th of September, 2015, to digital and local stores; and  to be DISTRIBUTED AND MARKETED BY TJOE GROUP.
Without the need to mince words, this is an album everyone should have, as its content is specially suited for all age, race and gender.
See the complete track list below.
SOUND OF MUZIK – TRACKLISTING
TRACK 1.INTRO-BOBO DEM
TRACK 2.AYENLO FT ORITSEFEMI-VECTOR
TRACK 3.AJOMAJAIYE FT SMALL DOCTOR – FALZ
TRACK 4.NEPA DON BRING LIGHT FT MR2KAY
TRACK 5.IGBORO FT PEPENAZI – KAYSWITCH
TRACK 6.WINE IT UP FT KAYJAY
TRACK 7.LIVING LARGE FT OLAMIDE – SHAYDEE – DJXCLUSIVE
TRACK 8.MEJI FT LIL JASON JAY – KENEE
TRACK 9 . NANA  FT BASE 1-SKALES
TRACK 10.SUFRY FT TSPIZE
Co- produced by TSPIZE
TRACK 11.GBESE FT LIL KESH
Produced by Jaypizzle
TRACK 12.ASANWA
TRACK 13. MUJE
BONUS
TRACK 1.IYIN
TRACK 2.GOD WILL MAKE   A WAY FT TKON