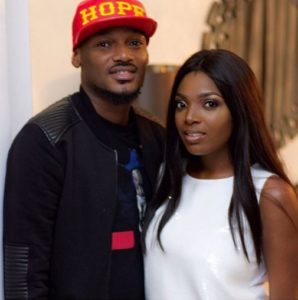 Could therE be trouble in the paradise of 2Baba and his wife, Annie Macaulay? Or are the lovers just goofing around on social media?
2Baba and his wife, Annie Macaulay created a scene on Instagram with their chat about the singer's love for women. Earlier in the day, 2Baba made a post on Instagram, declaring his love for women and how unashamed he is to say it. His declaration was certain to attract the interest of his wife, Annie, who many have lauded for her decision to settle down with the singer even after dealing with his philandering habit during their pre-marriage relationship.
Surprisingly, when Annie would make a reaction to 2Baba's post, she only dropped identical 'eye-rolling' smileys. The smiley suggests that the lovers are only engaging in a banter. 2Baba fans can relax their nerves as the singer is not about to engage in any form of confrontation with his wife.
See post below.

"See What Happened Between 2Baba & His Wife", 5 out of 5 based on 1 ratings.
---