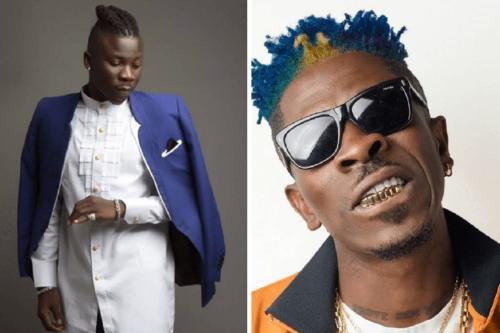 It was all a case of obsession for superiority, anger, violence, envy, mediocrity and most of all immaturity at the just concluded Vodafone Ghana music awards 2019.
Two music arch rivals and dance-hall artistes, Stonebwoy and Shatta Wale broght hell on earth at the awards ceremony as the police had to quickly intervene.
After Stonebwoy was announced by the organisers as the Dance-hall artiste of the year, Shatta Wale and his fans in fury and discontentment stormed the stage to rip the awards of Stonebwoy but was prevented by the winner's fans.
On seeing the attitude of Shatta Wale and his fans, Stonebwoy quickly pulled out a gun to fire at Shatta before he was quickly dashed at by one of the organising team members to prevent him from shooting.
However, the police quickly intervened as they took to their pepper spray to cause discomfort in the hall and curb the violence before it turns a major calamity. Stonebwoy was later hand-cuffed and whisked away by the police.
View this post on Instagram
Shatta Wale and Stonebwoy have a history of hatred and violence for each other and this drama is no surprise for some.